OTT Video Rentals and Purchasing Trends
by Barbara Kraus | Oct. 9, 2014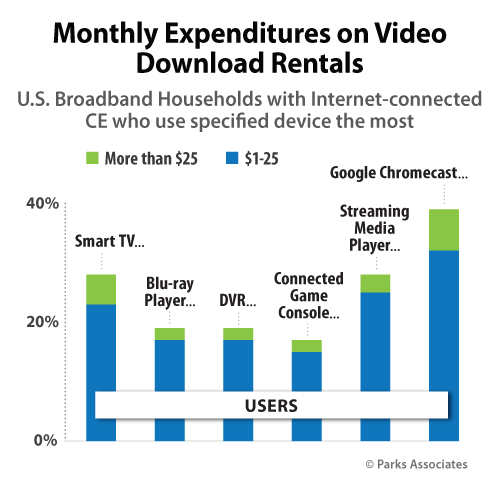 According to new Parks Associates research released today, 37% of U.S. broadband households regularly use transactional services for OTT video, such as online video rentals and downloads.
The research comes from the firm's 1Q 2014 consumer survey of 10,000 broadband households, now compiled in the primary research report, 360 View: CE Adoption and Trends. Other data highlights from the report include:
2/3 of Amazon Prime Instant Video subscribers rent or purchase titles through the service.
Expenditure on downloads among Netflix subscribers is decreasing.
80% of frequent streaming media player users also pay for monthly streaming services.
23% of the most-frequent smart TV users spend up to $25 a month on video download rentals.

While the expanded selection of titles offered by transactional services can be a sure-fire way to win over consumers and drive new business, research director Barbara Kraus cautions that content can also be a "death knell." She comments, "Verizon and Redbox ended the Redbox Instant service this week, which failed in large part because only a limited number of titles were available to rent through its streaming library. What the service needed was a large selection of online titles, with easy access for streaming."
For more information on the research included in this report, click here. For media inquiries or to request to speak with Barbara Kraus or another Parks Associates analyst, contact Holly Sprague via email.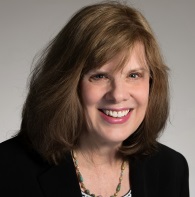 Barbara Kraus joined Parks Associates in early 2013 and currently studies the connected consumer electronics field. Barbara's expertise is delivering and monetizing consumer insights through the provision of compelling product and service technologies and experiences.
Barbara's background includes more than 10 years with technology service providers in the telecom and home security industries in marketing, strategy and insights, operations, and business development.
Further Reading:
Next: Amazon Prime Instant Video a Hot Spot for Transactional VoD
Previous: Parks Associates Analysts Following Aereo Case / Netflix Raising Prices

Comments
Be the first to leave a comment.
Post a Comment