OTT Services and Walled Gardens: NBCUniversal, WarnerMedia and the Future of Hulu and Netflix
by Billy Nayden | May. 16, 2019
In an eventful week for streaming news, an already fragmented market for content splintered further with major announcements from NBCUniversal and WarnerMedia about the future of their content on major OTT services.
Following the sale of 21st Century Fox, Disney now owns the majority of Hulu, and officially flexed its muscles on Tuesday, May 14, taking full control of Hulu from Comcast and allowing the minority owner to sell their stake in the streaming service in 2024.
In the meantime, NBCUniversal, a subsidiary of Comcast, will work on launching its own streaming service, scheduled for launch in 2020. While popular NBCUniversal content like Saturday Night Live and This Is Us will remain on Hulu for the next year, they can move it to their own streaming service as early as next year; within three years, there could be no NBCUniversal content on Hulu. Furthermore, The Office, which has been one of the most popular shows on Netflix, will move to the NBCUniversal streaming service next year.
WarnerMedia is taking a similar approach, pulling in-demand content like ER and Friends off rival streaming services in order to offer it on AT&T's new SVOD service.
Considering 65% of OTT subscribers in the US subscribe to two or fewer services, this fragmentation of content begs the question of where is the limit for OTT services from a consumer perspective. Certainly, service stacking or self-aggregation of services is a growing trend in the US, but just 18% of OTT subscribers have four or more subscriptions.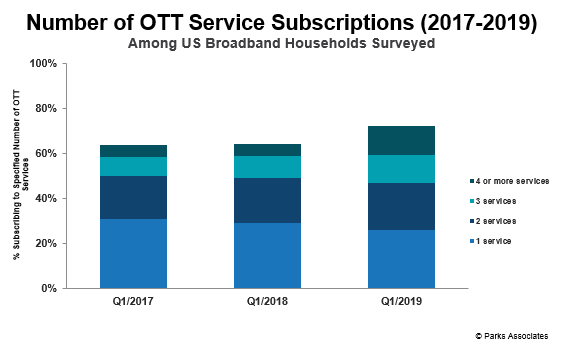 With services from major content providers like Apple, Disney, WarnerMedia, and NBCUniversal set to launch over the next year, whether or not consumers will choose to continue stacking services remains unknown for the companies backing these ventures.
However, the divergent models of WarnerMedia and NBCUniversal perfectly capture this uncertainty with regards to future consumer subscription habits. WarnerMedia will reportedly make a straight SVOD play, banking on the quality of their content from Turner, HBO, and Warner Bros. to compete with current SVOD offerings. In contrast, NBCUniversal will launch an AVOD service, and also take a slower approach to pulling content off Hulu. If the standalone streaming offering is unsuccessful or Comcast determines they can better monetize the NBCUniversal content library through Hulu, they have the flexibility to change their model before completely severing ties with Hulu and others.
While it remains uncertain how consumers will subscribe to services in the future, different models have emerged for OTT services, and the success of these models will project the mix of walled gardens and content aggregators in the OTT space.
For the latest info on OTT services, be sure to subscribe to our monthly and quarterly OTT trackers. Contact Elissa Mancini (elissa.mancini@parksassociates.com) for details.
Further Reading:
Next: Can I Have a Large Popcorn... and a Movie Subscription?
Previous: Disney+ Making Strong Case to Break into Big Three OTT Services

Comments
Be the first to leave a comment.
Post a Comment