New Technologies Driving Change in Digital Media
by Kaitlin Hawkins | Apr. 25, 2014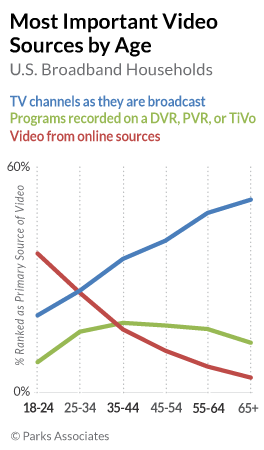 New Parks Associates consumer research examines the trend toward original content and how it impacts consumption and brand perception. The research firm finds that new technologies and content options are driving changes in digital media consumption. In the video market, online video sources are now becoming important sources for content, especially for younger consumers. The disruptive forces behind this shift are also affecting other aspects of digital media, including music, gaming, storage, and other online applications.
360 View: Digital Media & Connected Consumers analyzes several key topics:
Consumer habits and preferences in content consumption
Comparisons among video subscribers by provider, including pay-TV and OTT competitors
Profiles of consumers based on subscription services, household spending, etc.
Demand and preferences for content, cloud services, user interfaces, and platforms, including music, gaming, storage, video, and online applications
Interest in personalized services and willingness regarding targeted advertising

Providing in-depth consumer segmentation and insight into the digital media market, this report is invaluable for broadband service providers, software developers, TV networks and advertising technology providers, and more.
For more information on this report, contact Parks Associates via email.
Next: There is No Magic Bullet for Video Content Discovery
Previous: AT&T leading U.S. in TV Everywhere - U-Verse keynote at CONNECTIONS

Comments
Be the first to leave a comment.
Post a Comment