New Consumer Research: The Demand for Home Energy Management
by Kaitlin Hawkins | Feb. 26, 2014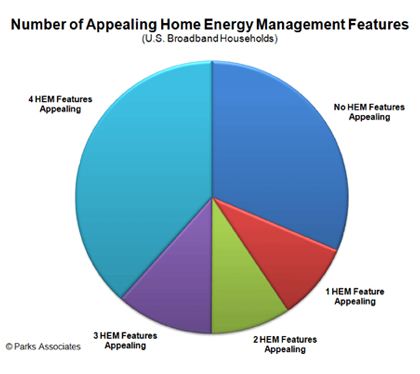 Parks Associates has released a new consumer analytics report on consumer interest in and adoption levels of home energy management features. The market focus report, "Consumer Segmentation: Who Will Pay for Home Energy Management?" analyzes the overall appeal of different types of smart home features, providing key insights into the top five features consumers identify as most important.
11% of U.S. broadband households already own and use a programmable, Internet-connected thermostat. This report specifically identifies opportunities and offerings that have the potential to maximize monetization of subscribers for any number of home energy management features. Additionally, the report identifies the unique decision factors that affect consumer purchase of energy management solutions—important details for utilities and platform developers to consider when marketing their services and products.
For more information or to purchase this consumer report, click here.
Parks Associates sends information about new consumer analytics and market focus reports on a regular basis. To be one of the first to hear about new consumer research in HEM, connected home, digital health, or any other market, sign up for our free Consumer Analytics newsletter.
Next: Only 15% of Households Familiar with Load Control Programs
Previous: Time-of-Use Electricity Billing Makes a Difference in Customer Satisfaction

Comments
Be the first to leave a comment.
Post a Comment