MSOs Face Revenue Opportunities in Support Services
by Amanda Kung | Oct. 16, 2020
Multiple System Operators (MSOs), a cable company or fiber-optics company (typically a telephone company), offer package deals that include the initial home network for most broadband households. Since most US households have fixed broadband and experience significant problems with wireless, there is a large potential market for support services.
Traditionally MSOs have mostly depended on revenues from the TV package rental and especially the premium purchase for movies, sports packages, and pay-per-view. But cable TV has been losing customers to OTT video (streaming video like Netflix, Hulu, and YouTube TV). Parks Research shows that 76% of consumers have an OTT service and 22% of broadband households have 4 or more services. Consequently, many MSOs are looking for revenue opportunities from selling, renting, and managing home network equipment, and attaching support services. Parks Research reported a large potential market for support services among the 88% of all US households that have fixed broadband in their home using one of the following services: DSL or fiber optic high-speed Internet services from a telephone company, cable high-speed Internet services from a cable company, satellite broadband service, or a fixed wireless or 5G home Internet service.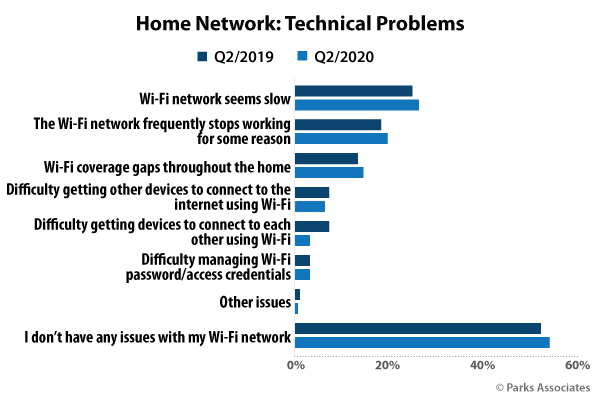 The initial installation by MSOs is sufficient for TVs, a desktop computer, a laptop, and a few smartphones. However, Parks Associates research indicates a dramatic rise of device burden on home networks with an average of 11.8 connected devices relying on the home network. This burden has been exasperated by the COVID-19 crisis, which has seen a boost in the demand on home networks because of more time spent at home, an increase in the number of connected devices, and an increase in video streaming activities.
Even before the rise in demand on home networks from COVID-19, consumers consistently reported multiple problems with wireless. Parks Associates research finds that service interruptions increased from 19% in Q2 2019 to 29% in Q2 2020 and reports of slow speed increased from 24% to 29% during the same period. This results in growing consumer frustration and interest in support services to improve overall performance throughout the home. MSOs can take advantage of these wireless problems by expanding their support services to help remedy these issues and improve the user experience of the home network. The net result will be stronger customer retention and validation of the value of the broadband service being subscribed.
For a deeper look at the Home Network space, please check out Parks Associates' Industry Report Home Networking: State of the Market.
Next: The End of Google Nest Secure and the Future of DIY
Previous: Most Consumers are Open to Contact Tracing Apps

Comments
Be the first to leave a comment.
Post a Comment