Moving the Smart Home Market Forward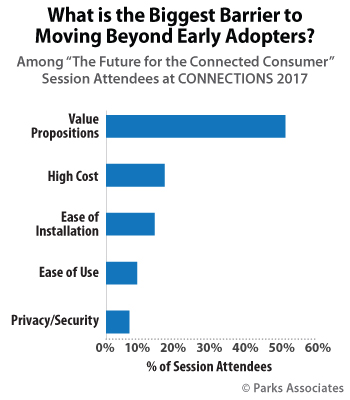 Over the past few years, there has been a lot of conversation among industry players about how to drive adoption of smart home products and services. The smart home market has achieved lower than expected year-over-year growth. And, despite the concerted effort from major technology brands to increase awareness and interest in the smart home, adoption is still primarily among early adopters.
At Parks Associates' 21st-annual CONNECTIONS™: The Premier Connected Home Conference, which was recently held in San Francisco, industry analysts, device manufacturers, retailers and other players in the smart home space convened to identify the primary barriers affecting growth in the smart home industry and to discuss key strategies to move the market forward. For the most part, there is agreement that stronger value propositions are needed to drive mass-market appeal. Even though many other barriers were identified including low awareness, long lifecycle of traditional devices and appliances, high price points of smart home devices, concerns about security and privacy, and the perception that smart home devices and systems will generate technical issues, the need for stronger value propositions is consistently identified as the catalyst that will drive the market forward.
With all the discussion about the need for better value propositions of smart home products, one speaker stood out among the others. In her keynote address, Kristine Faulkner from Cox Communications elevated the discussion by providing direction. She began by highlighting where to target value creation efforts. The justification for this is that there are certain groups for whom smart home value propositions will naturally be more appealing. Based on her own experience, she perceives the following people to be more responsive:
People who are often away from home
Those who have children in the home
Those who have high concerns about security and privacy

Not only did Faulkner highlight where to focus value creation efforts, she also highlighted purchase triggers. These included the following:
When the products are most affordable
When people move to a new location
After a significant life event
After experiencing a security issue

From this keynote presentation, product manufacturers got a good starting point in which to focus value creation efforts, while retailers and other brands can also leverage this information to target consumers with marketing and promotional efforts when they are most receptive.
Further Reading:
Next: Insurance for the Smart Home: Mitigating Risk and Creating Revenue
Previous: Innovations in IoT: Perspectives from CONNECTIONS Speakers

Comments
Be the first to leave a comment.
Post a Comment