Living Securely at Home - SimpliSafe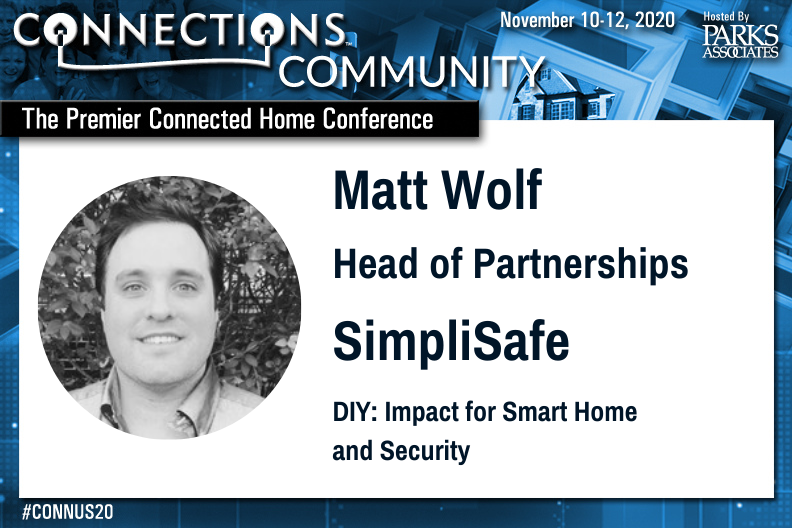 Parks Associates will hold the 24th annual CONNECTIONS executive conference online as part of CONNECTIONS Community. The final sessions start NOV 10-12 and will include presentations from Parks Associates' leading analysts and visionary sessions featuring executives in the connected entertainment and digital home technology industries. Matt Wolf, Head of Partnerships at SimpliSafe, shares his thoughts with us on COVID-19's impact in the smart home market ahead of the upcoming CONNECTIONS Community sessions:
What do you anticipate the impact of COVID-19 to be on the smart home industry in the short term and the long term?
In the wake of COVID-19, SimpliSafe and I would imagine the smart home industry as a whole, has seen a significant surge in customer adoption and engagement that can likely be attributed to American's enhanced emphasis on the home and peace of mind. What was historically a place where we simply ate and slept, the home is now so much more. As such, people are looking for ways to make life at home more comfortable, and home security does just that.
In the long term, we expect accelerated adoption of DIY smart home solutions. With increased e-commerce sales, consumers are not only becoming more comfortable shopping online, but also completing home improvement projects independently, without the help of professionals coming into their homes. Consumers have gained confidence in their ability to tackle projects on their own and seen the quality experience that DIY solutions can deliver so we expect that this will be a trend that will continue.
Register now for CONNECTIONS Community.
Next: Investing in the Future: 2025 Outlook
Previous: DIY: Impact on Smart Home and Security

Comments
Be the first to leave a comment.
Post a Comment