LG Introduces Next Generation Appliance Support
by Patrice Samuels | Nov. 4, 2019
LG has announced that its new appliances will be equipped with "Proactive Customer Care." The feature is designed to improve user experience and help customers maximize the lifespan of their products. The feature will first be enabled on the new bottom-freezer refrigerators and front-load washing machine.
The Proactive Customer Care feature will support consumers in the following ways:
Sends tips to prevent misuse of appliances – For example, for refrigerators the solution will inform consumers not to block airflow. For washing machines, the solution will advise consumers not to put too much soap in the appliance.
Monitors the appliance and alerts consumers of problems that can lead to malfunctions – For example, the appliance will notify consumers if the refrigerator temperature falls or fluctuates, or if the air flow in the refrigerator is poor. A washer will alert consumers if there is a drainage issue.
Provides preventative maintenance tips – These may include notifying consumers when it is time to change the refrigerator filters.
Engages customers – The appliances will send consumers tips to save energy and water when using the appliances, along with reports on appliance performance and notification history.

LG's Proactive Customer Care is a leading example of how support services can promote better overall customer experiences. User experience is critical as more connected devices come to market and more brands compete for a place in the connected home.
Traditionally, device manufacturers perceived technical support services as a necessary expense—a brand's obligation to help customers troubleshoot and resolve issues with their products. However, as the need to improve customer experience increases, support services are evolving in three primary ways:
Proactive – Brands are leveraging device data and predictive analytics to proactively identify issues with devices and consumer home networks. In some cases, the brand develops automated self-healing solutions for the problem or guide consumers through the problem solving process. Tips that prevent appliance misuse, such as those provided by LG, are also an important proactive strategy.
Process Improvements – Brands, like LG, are equipping consumers with self-help solutions that are advanced in capabilities, yet intuitive to use. The advanced capabilities of these self-help solutions allow consumers to resolve a broader range of issues on their own, without having to reach out to the support center. Brands are also making it possible for consumers to reach out to support centers directly from self-help tools, if the consumer is unable to resolve the specific problem on their own.
Customer Engagement Features – Brands can proactively engage customers by sending them personalize tips to optimize use of their product. This may include tips that help consumers maintain better battery life for their electronic devices, and tips that help consumers make use of underutilized device features.
Nearly 30% of smart home device owners find a service that proactively resolves problems with their devices and home network highly appealing.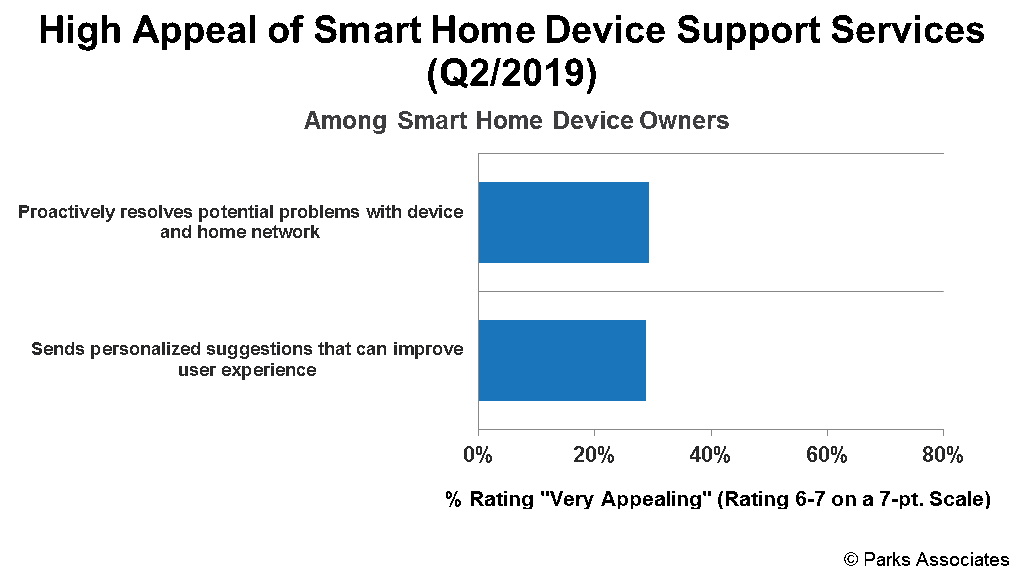 Developing these tools requires significant capital investment. However, the long term improvements in customer loyalty and engagement generates significant ROI.
Parks Associates' upcoming report Onboarding and Technical Support for the Connected Home will feature best practices for onboarding consumers, along with strategies—including proactive measures—that promote good product experiences.
Further Reading:
Next: COVID-19 and Technology Adoption
Previous: The Smart Home Connectivity Battle

Comments
Be the first to leave a comment.
Post a Comment