Key Trends Driving Broadband Adoption Worldwide
by Brett Sappington | Jun. 14, 2016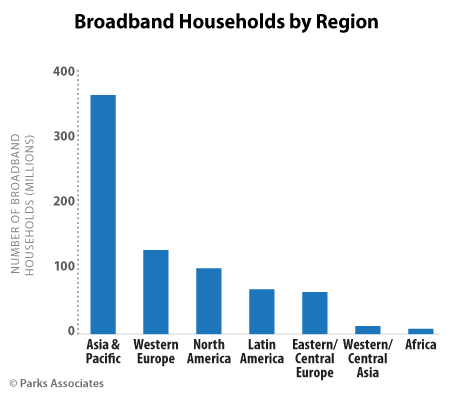 Broadband services remain a key driving force in global productivity and communication. Businesses, governments, and individuals continue to rely upon the quality and dependability of high-speed data services in order to inform, educate, interact, and entertain. New generations of connected products and Internet-based services enter the market with a core assumption that high-speed data connections are easily and readily available—an assumption that is generally true for most developed nations and becoming true for many emerging markets.
On a worldwide basis, household adoption of fixed-line broadband services continues to increase. At the end of 2015, almost 740 million global households subscribed to a residential fixed line broadband service, representing an increase of over 60% in the past six years.
Several factors are driving demand for broadband services, including:
Connected device ownership – The combination of device purchases and broadband services creates a virtuous cycle for adoption and upgrades. Consumers with broadband want devices that will leverage the access provided. As consumers purchase more connectable devices, they want more broadband throughput to support the online features and content delivered through the device.
Always-on access and Wi-Fi – A broadband connection allows consumers to have a continuous connection, and wireless networking allows this access to be available throughout the home. In-home Wi-Fi access is particularly attractive to smartphone consumers that have metered mobile data services and want to minimize their mobile data costs.
Entertainment – Streamed content, particularly video or gaming content, requires a broadband connection for a good experience. Downloads of content encourage consumers to higher levels of service in order to minimize wait times.
High bandwidth interactivity and communication – As consumers become familiar with online access, many quickly migrate to data intensive activities. Often these activities involve personal media and social interaction, including posting photos or videos online, accessing photos and videos from others, and videoconferencing.

As these trends continue to grow and spread across the world, consumers place higher emphasis on speed. Google's market entry as a broadband provider catalyzed the U.S. consumer broadband market for gigabit-speed services—in designated metro areas, the company now delivers broadband speeds up to 100 times faster than what is typically available to most Americans. (According to 2015 FCC-established download speeds, 17% of the U.S. population, and over half of rural citizens, does not have access to broadband.)
Widespread access to high-speed data services will facilitate the accelerated growth of the connected home and consumer-based IoT. According to Parks Associates estimates, half of U.S. broadband households will be smart homes by 2020. As consumers become accustomed to the benefits of a comprehensively connected lifestyle, they will come to expect all of their technology experiences to be instant, personalized and connected. And those expectations will continue to drive IoT innovation over the next several years.
For more information on the expansion of broadband access, see my report Modern Broadband: Forces Driving High-Speed Broadband Subscriptions.
Further Reading:
Next: Gigabit Broadband Services: Consumer Perceptions
Previous: AT&T Announces Unlimited Data Plan: Parks Associates Analysts Respond

Comments
Be the first to leave a comment.
Post a Comment