Investing in the Future and the Long-Term Impact of COVID-19 - Ezlo Innovation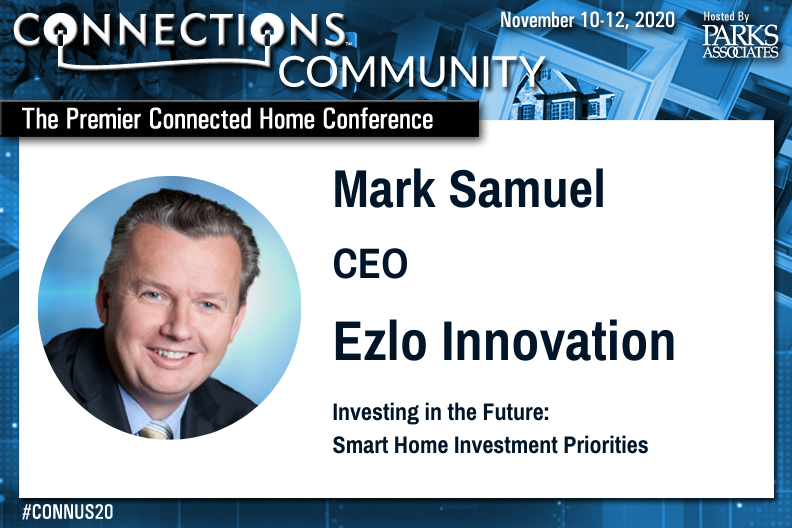 Mark Samuel, CEO of Ezlo Innovation, will be participating on the final CONNECTIONS panel session, Investing in the Future: Smart Home Investment Priorities. Ahead of the panel, he shared his thoughts with us on investing in the future and the long-term impacts of COVID-19:
What do you anticipate the impact of COVID-19 to be for the smart home industry in the short term and long term?
The short term answer is that for people who can afford it, they're buying piecemeal. A camera here. A doorbell there. But longer term they'll want to add to the system. People will still be spending a lot more time at home than ever before, so smart home and productivity will need to come together in a single offering. Plus, we anticipate a focus on energy monitoring because of increased usage. The key for businesses is that they'll need to convince consumers that the changes we're seeing now will outlive COVID.
As the number of connected devices in consumers' lives increases each year, what solutions need to be created to allay rising consumer concerns around data security and privacy?
I believe consumers need to have the choice. What we do in Ezlo is allow you to have everything in local mode if you want. We let you choose what goes to the cloud, and for low to medium income customers, we can run on broadband access only with no cloud at all. Our clouds are based in US or western Europe, we are GDPR compliant, and we believe that if you present it simply enough consumers will see the advantage compared to other solutions. Also, because much of our business is through partnerships with companies that are already trusted entities in a household, we feel we are in a really good position relative to others in terms of how secure our end customers feel.
With the rollout of 5G technologies nearing, what impact will this technology have on connected consumers?
5G speeds are nice, but in the short term we do not expect any major impact. As 5G matures and we see the so-called Massive-IOT for sensors offering low cost, always-connected devices that can give real-time information, then 5G will transform how data interacts with the home and its occupants in ways that we're yet to discover.
As the smart home experience expands outside the home, how will the role of the car evolve as part of the smart home ecosystem?
The car will simply become an extension of the home. If you aren't driving, what are you doing? Productivity, entertainment, anything just as if you were at home or your office, but you're moving in your car. Cars that have voice assistants are already being linked to home control. You can imagine a geofencing scenario. Right now you have to create a scene to turn on the lights when your car gets within a certain radius of your home. Maybe in the very near future, your car will just tell the home to turn on the lights without you needing to do anything.
What is necessary to build a seamless smart home experience that crosses brands, platforms, and ecosystems?
We need companies working together on common standards. It sounds simple but it hasn't been done before. It's been attempted, of course, but none of those efforts have delivered on their promise. Hopefully the work going on with CHiP will overcome the problems that we've seen up to this point.
What impact will emerging technologies like AI, machine learning, and blockchain have on the smart home? What are the associated challenges with implementing these technologies in the home?
A smart home will become truly smart when it can learn on its own and serve the needs of the homeowner without having to ask. This has been promised for a long time and hasn't happened yet, but we believe that it will begin to happen bit by bit over the next five years. When we stop and look up in 2025, we will see that machine learning has become so much a part of our everyday life we will have come to take its benefits for granted.
How will service providers adapt to the "new normal"?
Traditional service provider models are getting disrupted, which allows space for different models to develop. One way we think about it is that companies like utilities or service providers who are already interacting with end users can add a new connected service to increase their ARPU. It's like an MVNO. Anyone can be a service provider. Now a utility company, or any other, can become an MVNO company for smart home services because they have a billing relationship and are a trusted entity by the consumer.
What innovations have you seen that will address the existing needs of the elderly to enable independent living in the smart home?
Where we're working heavily—both internally and with our partners—is on unintrusive solutions to this problem. If someone is living reasonably comfortably by themselves and is in a standard routine, they don't want to feel like their children are watching over them. The innovations we're seeing, which will be deployed in the very short term, combine sensors and artificial intelligence in a way that is designed to give peace of mind to the family and remote caregivers, without intruding on the privacy of their elderly loved ones.
How will the continued rise of DIY security expand the smart home? What challenges will DIY players face in 2020 and beyond?
As smart home technology becomes more widely adopted, it will be clear that you don't need to own a home to start a smart home. DIY security will see the biggest boost in the rental market where people don't want to have to ask permission to install new technology in their units. Wireless solutions are already in the market that enable renters to install them in one home, and then seamlessly pack them up and take them along when they move.
However, as time goes on and smart home technology becomes expected by renters and homebuyers, the companies that will come out ahead are those that can best align themselves with builders and property managers. When this happens, DIY solutions that live exclusively on retail shelves will suffer.
What new energy management scenarios are emerging from industry partnerships and crossover use cases?
We're seeing insights into energy consumption at a whole new level. This changes both how the consumer views their usage, and from a utility perspective, it provides them with granular details they can use to inform their demand response scenarios.
Using energy monitoring with smart devices, we can disaggregate the total consumption. This gives consumers a better idea about how to manage their consumption, and therefore their costs. This granularity will only increase as time goes on. Additionally, the greater awareness about their habits lets them have a more direct impact than ever before on their carbon footprint.
By becoming an ally in helping their customers save money and the planet, utilities will bolster their relationship with their customers. This leads not only to increased engagement, but also an openness to adopt new services that the utilities roll out over time.

Next: Smart Home Platforms: Simplifying the Experience
Previous: Investing in the Future: 2025 Outlook

Comments
Be the first to leave a comment.
Post a Comment