Interactive Panel on the Impact of DIY on Smart Home & Security
The CONNECTIONS Conference is the premier Connected Home conference focused on emerging technology markets in digital media, content distribution, and mobile applications and services. This year' sessions offer its attendees a mix of valuable market research, analysis, and industry insight.
During the conference's DIY: Impact on Smart Home and Security session, a panel of industry experts from across the DIY to Pro-spectrum discussed consumer responses to ever-expanding DIY options, strategies for attaching recurring revenue services, dealer approaches to DIY, and the differentiation of DIY and professional services by legacy players. ADT shared visionary insight on The Many New Faces of Home Security with discussion of trends in the evolution of the way home security looks and how it will be sold in the future.
Click here to watch the panel that consisted of the following experts: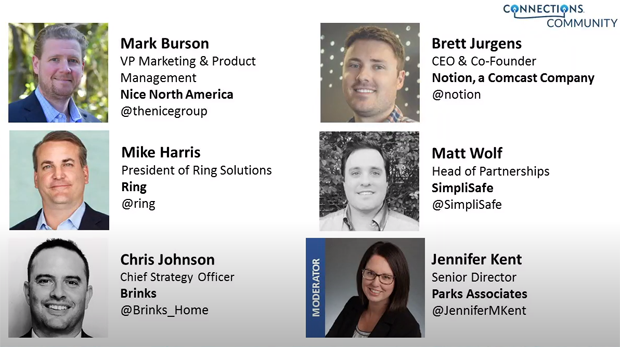 To view the full session, please click here.
All CONNECTIONS session content is available through the conference virtual platform SwapCard where attendees can continue to network with industry experts and visit sponsor booths.
We appreciate our Sponsors: Sutherland, Alarm.com, Bitdefender, Nice, Cox Communications, Intellithings Ltd, Cirrent, Everise, MMB Networks, ServiceLive, Zen Ecosystems, Firedome, Inspire, MERCKU, Olibra, OSSIACO, Plume, Tuya, Zigbee Alliance, Z-Wave Alliance, Aprilaire, Asurion, GadgEon, Wi-Charge.
Next: Smart Home Platforms: Simplifying the Experience
Previous: Investing in the Future: 2025 Outlook

Comments
Be the first to leave a comment.
Post a Comment