Importance of Content in SVOD Services
by Michael Tuck | May. 1, 2019
Though many services tout a long list of service features and various value-adds, differentiation in the SVOD market relies heavily on the content made available to consumers. The top three OTT SVOD services have well known successes—House of Cards, Stranger Things, and Black Mirror from Netflix, The Handmaid's Tale from Hulu, and The Marvelous Mrs. Maisel from Amazon Prime Video.
Outside of the top three, the most notable example of differentiation through flagship content is HBO, a company that has leveraged original content as part of its overall strategy for many years as a premium channel. The SVOD service launched in April of 2015 and quickly became one of the most popular streaming services in the US, largely thanks to its flagship series Game of Thrones. The return of this phenomenally popular series for its last season was called out in AT&T's Q1 2019 earnings report as a driver of record HBO viewership; this approach has led to success for HBO Now, as well. In fact, 56% of HBO Now subscribers report that a specific program drives their motivation for subscription.
Other premium network OTT services like CBS All Access and STARZ also see a large number of consumers reporting specific titles as subscription drivers, likely attributed to Star Trek and Power, respectively. Conversely, vMVPD services such as Sling TV and DIRECTV Now index below average for specific titles as a driver, as they offer no original content of their own. For these services, price is the primary reason consumers report subscribing, which is how many vMVPD's differentiate themselves as a pay-TV replacement.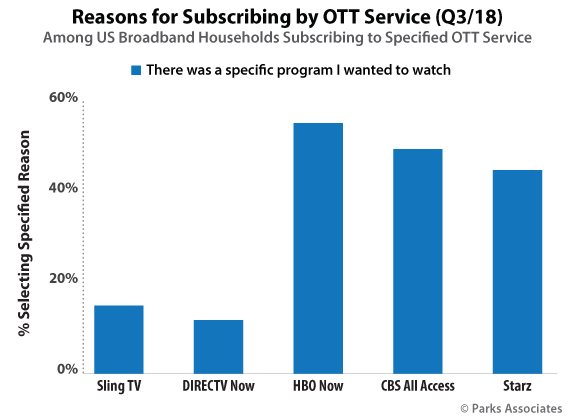 However, original content success has its own challenges. The finale of a largely popular series becomes a trigger for consumers to re-valuate the value of their subscription. For HBO Now that trigger will be pulled in just three short weeks when Game of Thrones comes to an end, which is why the network has been so heavily promoting alternative content like Euphoria to its viewers. One key challenge with this strategy, and most programmatic advertising campaigns, is that consumer content preferences differ among segments. Spin-off series—such as ones HBO announced stemming from Game of Thrones—may help mitigate subscription loss, but will take significant time and capital to bring to market.
Further analysis of the US OTT video market is available within Parks Associates' 360 Deep Dive: OTT Purchasing and Perceived Value. Please contact Elissa Mancini at elissa.mancini@parksassociates.com for more information.
Further Reading:
Next: Sinclair Purchase of RSNs Bolsters Bargaining Power with Pay-TV Providers
Previous: Key Takeaways from the 2019 NAB Streaming Summit

Comments
Be the first to leave a comment.
Post a Comment