HomePlug Powerline Alliance Update
by | May. 23, 2008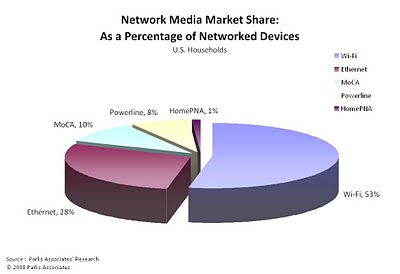 The HomePlug Powerline Alliance provided an update today during a phone briefing. Here are some of the highlights:

There have been 18 million HomePlug semiconductor shipments (cumulative). More than one-half of sales are outside of the U.S. This is consistent with the calculations that we compiled earlier not to long ago that gives powerline networking solutions about 8% of all home networking nodes in U.S. households.
Consistent, with our findings, Europe dominates for HomePlug product shipments, accounting for 60% of HomePlug sales. In late 2007, we wrote that Europe will be the decisive market for powerline networking (in a white paper titled Consumer Technology: Key Trends and Outlook for 2008).
KT (formerly known as Korea Telecom) is using HomePlug adapters as part of its Mega TV IPTV service.
HomePlug continues to report progress on the IEEE's P1901 Working Group. A merged proposal from CEPCA, HomePlug, and SiConnect received the most votes at the March meeting. However, this proposal will need 75% of the votes to confirm it, something which has yet to occur.
In the meantime, the ITU is working on its G.hn standard, to which the HomeGrid Forum will be a companion. It'll be interesting to see what eventually emerges from both the IEEE and the ITU. I'm wondering if we'll finally have some resolution to the multiple powerline approaches, or if we'll just see two large international standards bodies chose incompatible specs.
Next: HGI PUTS ENERGY SAVING ON THE AGENDA
Previous: Opportunities for Wireless & Powerline Controls Webcast

Comments
Be the first to leave a comment.
Post a Comment