Global Smartphone Unit Sales Will Exceed 800 Million in 2015
Smartphones represent a new lifestyle. Consumer desire for that lifestyle has accelerated the traditional mobile phone replacement cycle and will drive near-term hypergrowth of the smartphone market. Parks Associates forecasts over 2 billion people worldwide will own at least one smartphone in 2015, with unit sales growing over 175% from 2010.
Hardware and software innovations, such as dual-facing camera-supported video chat and app-enabled content consumption, will continue to drive this market through the down economy.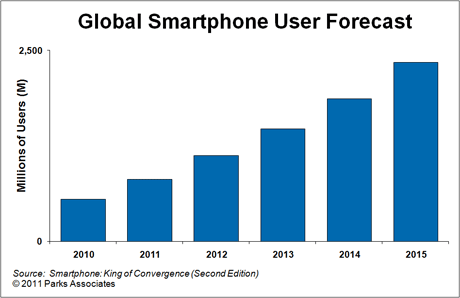 The Parks Associates' latest report Smartphone: King of Convergence (Second Edition) says smartphone shipments jumped 70% in 2010, with approximately 500 million users.
The most successful manufacturers, including HTC, Samsung, and Apple, were also the most innovative. Companies slow to innovate, including Nokia and RIM, have suffered declining market share. According to the report, RIM's smartphone market share declined from 19.8% in 2009 to 16.5% in 2010, while Apple's share of the smartphone market grew from 13.9% to 15.8% in the same period.
Next: OTT and the User Interface
Previous: Ford Teams Up With Google for Auto Efficiency

Comments
Be the first to leave a comment.
Post a Comment