Free Webcast to Address Strategies for Engaging Consumers in Digital Health
by Kaitlin Hawkins | Jun. 10, 2014
Parks Associates senior analyst Jennifer Kent and director of health and mobile product research Harry Wang will be presenting the research firm's latest digital health data in an upcoming webinar "Engaging Consumers with Connected Health Technologies." This complimentary webinar will take place place Thursday, June 26 at 1 p.m. CST (2 p.m. EST).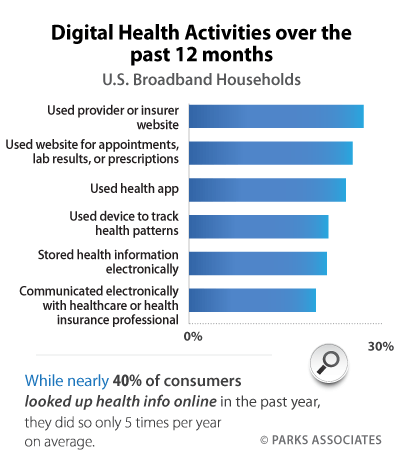 Parks Associates research shows that consumers are increasingly interested and engaged with digital health tools and services. Nearly 40% of consumers looked up health information online, with the top activities over the last 12 months including using a provider or insurer's website; scheduling appointments, lab results, or prescriptions; and using a health app.
Given this information, healthcare providers, insurers, and other professionals in the health industry can use this free webcast to gain the tools and strategies they need to engage consumers in preventive care via connected health solutions and services.
This webinar is free and open to the public. To register, click here.
Want even more Parks Associates digital health research? Check out the first-annual Connected Health Summit, the only two-day executive conference focused on the consumer perspective within the digital health landscape. Also be sure to sign up to the Connected Health Summit LinkedIn group for updates.
Next: Connected Health Technologies Gaining Traction in Medical Field
Previous: Uncovering the Healthcare Needs of U.S. Consumers

Comments
Be the first to leave a comment.
Post a Comment