Echo owners could further strengthen Amazon's lead in the streaming music market
by Glenn Hower | Oct. 12, 2016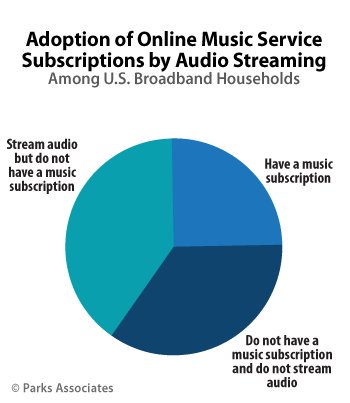 Today's launch of Amazon's standalone streaming music service, Amazon Music Unlimited, will definitely have an impact for the streaming music industry. Amazon announced a standard $9.99 per month price, but a $2 discount for Amazon Prime members and a $3.99 per month rate for Amazon Echo owners. The Amazon Echo offering does not include the ability to listen on alternative devices, such as smartphones, tablets, and computers.
Parks Associates research indicates a continuing trend to subscribe to streaming music services. A recently fielded consumer survey reveals a 7% increase in broadband households subscribing to a paid streaming music service, an increase from 26% in 2015 to 33% in 2016. Amazon Prime Music continues to be the clear market leader with a subscriber increase from 10% of broadband households in 2015 to 15% in 2016.
With Amazon already the leader in this growing market, Echo owners could allow the giant to build on its lead. Currently, 7% of U.S. broadband households use Spotify Premium, 5.9% use Pandora One, 5.3% opt for Sirius XM Streaming, and only 2.7% are Apple Music users.
The Echo is more than capable of extending that lead. Estimated sales of Echo, Echo Dot, and Tap were more than 5 million units cumulatively at the end of 2Q 2016. Amazon also sold nearly 10 million Kindle, Fire, or Echo-branded home and mobile entertainment devices in 2Q 2016.
Additional Parks Associates data reveals:
68% of smartphone owners listen to streaming music daily.
Streaming music consumers spend 45 minutes per day on this activity.
Smartphone owners spend more time per day listening to music on their device compared to other major entertainment activities.

The strategy of bundling entertainment and retail services together has served Amazon well. Expanding the benefits to Echo owners at a discount indicates a high level of confidence Amazon has in both its content services and its technology.
For more information on Parks Associates digital media research, visit www.parksassociates.com, or contact us today.
Further Reading:
Next: Competition Increasing Among Top 10 OTT Video Service Providers
Previous: Like a Tired Marathoner, NBC Struggles through Olympics Coverage

Comments
Be the first to leave a comment.
Post a Comment