Director of Health Reseach featured on ViodiTV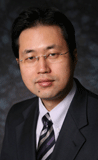 Harry Wang, Director of Health and Mobile Research, Parks Associates was featured on ViodiTV's coverage at the Broadband Properties Summit in Dallas, Texas.
Harry is very excited about next 5 years for the telemedicine/telehealth industry. A number of factors are in play to help overcome consumer inertia to widespread adoption of telemedicine. Ubiquitous wireline and wireless broadband and devices are giving consumers lower cost, more efficient and sometimes more effective alternatives to having to make the trek to their doctors' offices.
To view the full video, click here.
Next: Parks Associates supports 7th Healthcare Unbound Conference
Previous: Parks Associates supports Chronic Care & Prevention Congress

Comments
Be the first to leave a comment.
Post a Comment