COVID-19 and Consumer Data Security - Insights from Bitdefender
This year, Parks Associates will host the 24th-annual CONNECTIONS™: The Premier Connected Home Conference online, as part of the virtual CONNECTIONS Community on November 10-12, 2020. The executive research conference includes presentations from Parks Associates' leading analysts and visionary sessions featuring executives in the connected entertainment and digital home technology industries.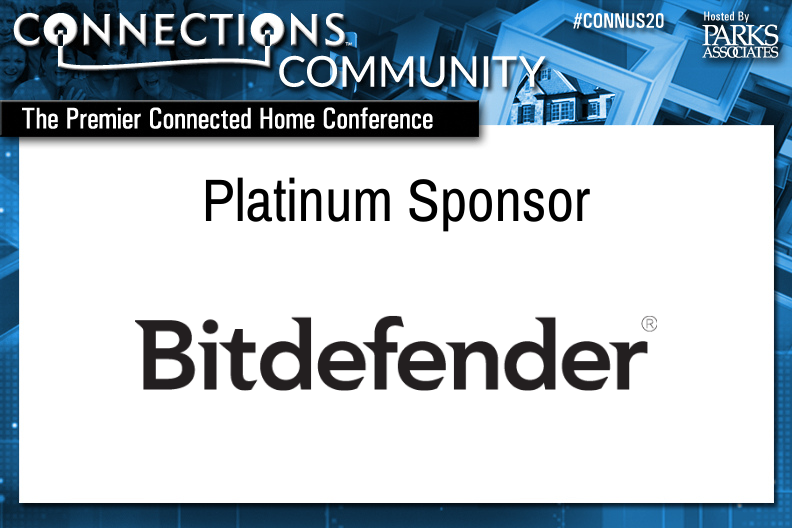 Ahead of the conference, we asked our platinum sponsor, Bitdefender, to share their insights with us the current pandemic and its effect on consumer data security and more:
What do you anticipate the impact of Covid-19 to be for the smart home industry, in the short term and long term?
As people spend more and more time in their homes, we expect the smart home ecosystem to grow considerably. IoT devices bring comfort and convenience for many people who have turned their homes into their day-to-day offices - but they open the avenue for company-targeted attacks through residential home networks. Hackers have multiple ways of attacking company infrastructures nowadays when many employees are working remotely. They can target all the other personal devices that are sharing the home network with the work laptop such as computers, tablets, gaming console, entertainment systems, and IoT devices, like smart appliances, smart doorbells, thermostats.
That is why we consider smart home cybersecurity to be a key area where both consumers and ISPs will turn their attention towards sooner rather than later.
As the number of connected devices in consumers' lives increase each year, what solutions need to be created to allay rising consumer concerns around data security and privacy?
Many of the solutions needed to put consumer concerns to rest already exist. But the bigger problem is with awareness and ultimately adoption - how will end users know how to access a comprehensive solution for their own households? Who's going to provide that layer of security, and how? That's actually one of the topics Bitdefender is most actively engaged in, and our experience shows that consumers expect a layer of security directly from their ISP. One such solution is the Bitdefender IoT Security Platform, which provides the technology needed to protect routers, smart, and non-smart devices either at home or when consumers are on the go. To stay on top of these threats we test the most popular IoTs to find vulnerabilities and set up honeypots to find out the new potential attack vectors. All these findings are shared with the media to ultimately rise awareness among consumers.
With the rollout of 5G technologies nearing, what impact will this technology have on connected consumers?
In many places 5G will complement next-gen developments with WiFi networks (like WiFi 6 already rolled out in many places and WiFi 7 in the near future) to provide connectivity everywhere connected consumers go. This will most likely incentivize people to connect more and more devices to the Internet, further accelerating the existing trends in IoT and possibly bringing new solutions to the market. Of course, this also puts an additional burden on service providers, which will have to deal with larger DDoS attacks than ever before, as more devices will need to be secured, because the transition from 4G to 5G is similar to switching from a riffle to a missile, way more damage can be done.
As the smart home experience expands outside the home, how will the role of the car evolve as part of the smart home ecosystem?
As cars continue evolving towards completely autonomous means of transportation, consumers need to pay attention to a new kind of car safety features - cyber security for cars. Bitdefender telemetry has identified dangerous vulnerabilities in smart cars in the past, and we constantly work with our partners to help secure the overall consumer ecosystem. Advanced driving systems will need careful testing not only from a mechanical and AI behavior perspective, but from a cyber security point of view as well. Not to mention that the smart car is already a connectivity hub for many smart gadgets and services - which means it interacts will all sorts of vulnerable systems. Privacy will also play an important part with personal smart cars in the future, as consumers will have to figure out how much of their driving telemetry and location information they are willing to share with car makers and insurance companies.
What is necessary to build a seamless smart home experience that crosses brands, platforms, and ecosystems?
Technologically, that requires a universal protocol for devices to communicate between them. But from a consumer perspective, it also takes trust to connect every brand, platform or ecosystem to one another, knowing that no matter what happens in one of the nodes, the system is safe and resilient. As things are right now, it makes more sense to keep some vulnerable things separated. Are we ever going to get rid of existing vulnerable IoTs? Probably not, and that's why we're trying to move the needle in this area and provide solutions to connect more devices more safely.
What impact will emerging technologies like AI, machine learning, and blockchain have on the smart home? What are the associated challenges with implementing these technologies in the home?
Each wave of past emerging technologies has had the effect of further boosting smart home adoption, and there's no reason to believe AI, machine learning, and blockchain will not do the same. In fact, we're already starting to see increasingly sophisticated smart solutions that rely on these technologies, and even integrate all of them together. The challenge is transposing the technical benefits into palpable benefits for consumers, especially in a responsible manner.
How will service providers adapt to the "new normal"?
Service providers have been quick to adapt to the increased throughput demand - but some have fallen behind in keeping up with protecting the growing ecosystem of devices connected to their networks. That is why we believe the next logical step for service providers is to invest in securing residential customers. Since "home is the new enterprise", it makes a lot of sense for a remote workforce to look for ways of protecting their Internet connection across all critical devices.
What innovations have you seen that will address the existing needs of the elderly to enable independent living in the smart home?
The smart home paradigm is all about improving the quality of life. So unsurprisingly, the elderly are a category for which innovations in this space have been particularly helpful in completing everyday chores. Things such as voice assistants and home automation allow those with reduced mobility to finish daily tasks with minimal to no assistance from anybody else. Those with a bit more technological know-how can do their groceries and most of their shopping online, and keep their vital signs in check with a smart watch or wristband. But at the same time, this category would be most affected by any possible disruption of services.
How will the continued rise of DIY security expand the smart home? What challenges will DIY players face in 2020 and beyond?
DIY security might very well have its own place in securing the smart home - for many, it is a gateway into learning more about securing their home network. Any cyber security solution that is properly implemented is better than no solution at all - but the threat with a DIY solution is that it could expand the attack surface instead. With DIY it's a challenge to know if the solution is effective and sufficient. But keep in mind that cyber threats grow year over year at an alarming rate and they become more complex as time goes on, so keeping up with current threats is a nearly impossible task for the DIY enthusiast.
What strategies are needed to achieve a unified experience in the home for consumers between smart home and connected entertainment products and services?
Consumers have grown to expect cross-platform connectivity between products and services. So for example they expect to be able to command their Netflix stream with a remote, their phone, or a voice assistant and not worry which of them initiated the connection in the first place. The strategy that emerges from this is fairly simple and obvious: connect everything, everywhere. But upon closer inspection, things become a little trickier - increased connectivity comes with increased security risks - and nobody wants those. In reality, connectivity and entertainment providers need to create a secure ecosystem of services before going to market with them. Only once they protect the infrastructure and the customer experience do they gain the freedom to talk about the value of security and data privacy, and thus alleviate any consumer concerns about unified smart experiences.
Next: Most Consumers are Open to Contact Tracing Apps
Previous: Heavy Home Network Users Find 5G Fixed-Wireless Service Appealing

Comments
Be the first to leave a comment.
Post a Comment