COVID-19 and the dramatic increase of video consumption
by David Drury | Jun. 3, 2020
The entertainment industry has experienced significant turmoil in the past five years. Pay-TV cord-cutting and shaving continue, with adoption dropping from a high of 87% of US broadband households in 2014 to 73% in 2020. During the same period, OTT services exploded to more than 200 in the US market alone, and adoption grew from 55% to 76% in the US. Viewing platforms diversified, with content available across a variety of connected video and computing devices.
Yet, in the midst of this drastic shift in the way video is packaged and distributed, Parks Associates detected an overall drop in video consumption in 2017 and 2018. Content had never been more available, and yet accessing it was anything but frictionless. Navigating to desired content was frustrating, user interfaces were not always intuitive, and the sheer number of OTT services available for consumers to trial encouraged consumer experimentation but not commitment.
Data suggests the industry turned a corner of market maturity in 2019. In Q3 2019, overall video consumption, across all service types and all viewing platforms increased dramatically, and that increase continues into 2020. More mainstream consumers have added OTT services beyond the big three, driven by significant entrants from Disney+ and Apple TV+. Voice controls and unified interfaces make accessing content across sources easier than ever.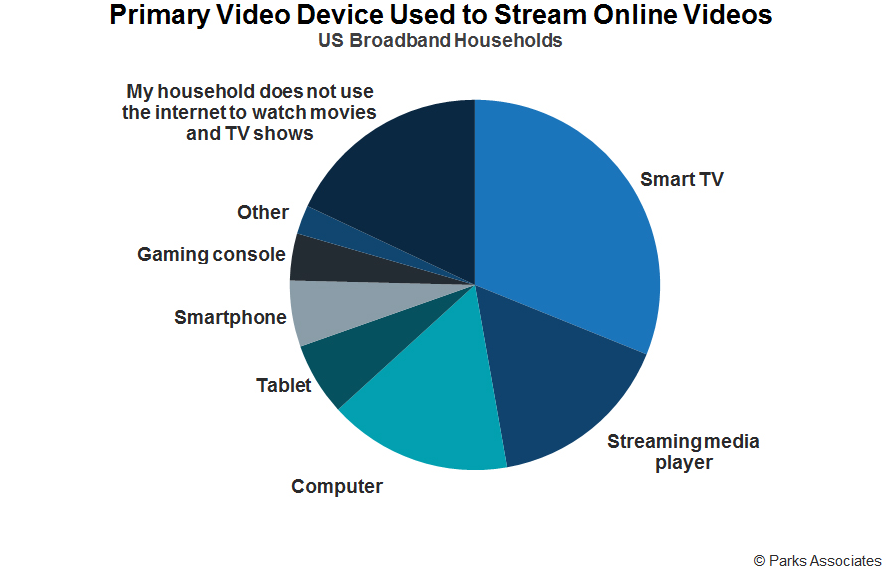 Just as some stabilization appeared evident, the COVID-19 crisis introduced yet more turmoil. The pandemic has certainly increased demand and fueled higher levels of video consumption, but also has disrupted video production and distribution significantly. Production of many new originals are on hold, and major studio titles have released directly to the home, threatening the long-term viability of the theater-release model. It has never been more important for industry players to track users' viewing habits and preferences, and align service offerings to changing consumer needs and lifestyles.
Consumption patterns are changing based on content availability, services taken, and devices used. Video Consumption – Tracking Users and Viewing Habits examines consumption patterns over time and across major screens within the home as well as understand how video viewing habits are changing. It also examines the growth of content sources for both live and on-demand content.
David Drury, Research Director
David is a research director at Parks Associates bringing over fifteen years of experience in teaming with clients, gaining an understanding of their needs, and leveraging his expertise in research and spatial analytics to provide them intelligence to address their business requirements.
His ability to incorporate the "where" component into his research projects with spatial analytics provides clients with new and valuable insights for making fact-based decisions to increase their revenue.
David earned his BA in Geography with a focus on Geographic Information Systems ("GIS") from the University of North Texas in Denton.
Next: New Services Threaten Big 3 in OTT
Previous: HBO Max, Is This a Good Time to Launch?

Comments
Be the first to leave a comment.
Post a Comment