Convergent Billing Moves OTT Closer to Disrupted Cable TV Business Model
Amazon created the new template for services seeking to create a one-stop shop for streaming media content with their Amazon Channels offering in late 2015. What started with a simple platform for content aggregation has turned into a new strategy for players in the OTT space to create a more desirable—and affordable—content offering for their consumer with the ease of convergent billing.
Several platforms/services have followed Amazon's lead in aggregating content from a variety of OTT content sources while allowing users to sign up and pay for multiple services from within their UI. Most recently, Roku has launched Roku Pay, which takes their platform a step further in allowing users to pay for services they subscribe to from within the Roku ecosystem. Previously, users were required to use authenticated login after subscribing on third-party websites to enjoy content on Roku streaming media players. Another noteworthy example is Apple TV, which is planning to launch their own version of a convergent billing experience soon, likely making use of their existing Apple Pay service, according to an unnamed source from within the tech giant. Other services making use of convergent billing and the aggregation of content include VRV, Sling TV, and YouTube TV, among others.
Examples of content producers/rights holders partnering with these types of platforms to offer convergent billing are Curiosity Stream, Crunchyroll, VRV, and Shudder to name just a few. Interestingly, the most common content available as an add-on to OTT subscriptions comes from HBO, Showtime, and Starz, all of which are staples of the traditional premium cable package. This trend of content bundling and convergent billing is making it ever easier for consumers to create an a la carte array of content specific to their wants for a lower price than traditional cable subscriptions. Ironically, this is bringing OTT closer to the cable TV business model these services have been disrupting. With aggregators functioning as traditional cable companies, the only real difference in the two markets is the level of ease with which consumers can customize their content array and switch between services.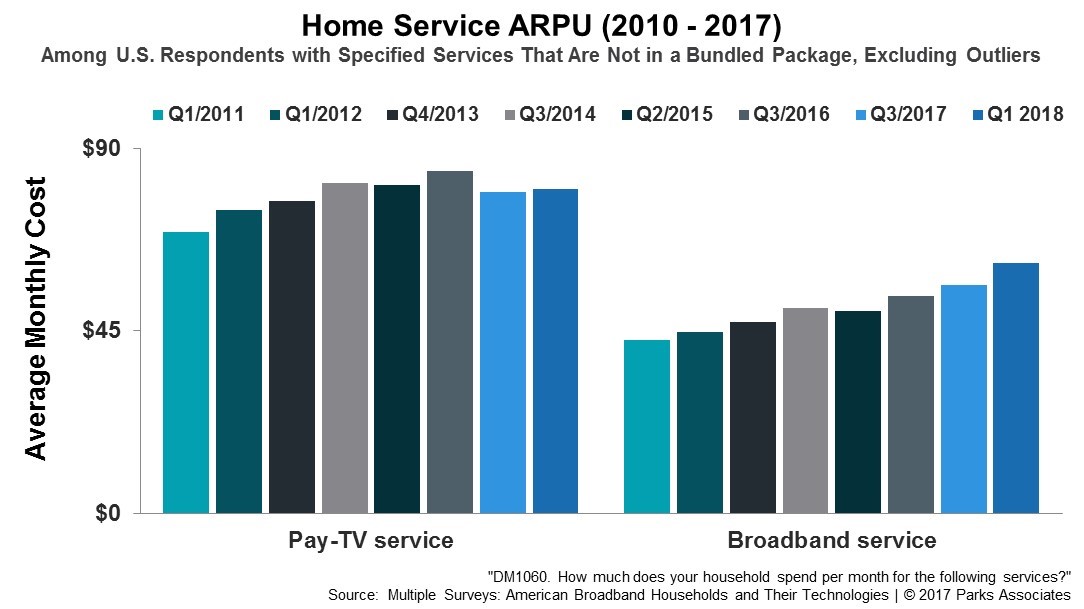 According to the Q1 2018 Parks Associates survey of broadband households, the average cost of a standalone unbundled cable TV service in the U.S. is $79.97 while the average price paid for an OTT service in the U.S. is $11.49 per month, according to Parks Associates' North American OTT Tracker. In theory, consumers can subscribe to approximately seven or more OTT services through convergent billing for the same price as a traditional pay-TV channel package. In this sense, convergent billing makes OTT video services more comparable to the pay-TV package, particularly when live TV services are part of the OTT bundle. As the number of subscriptions per household increases, pay-TV providers will need to provide an alternative or find opportunities to bundle OTT video services with their own offerings.
Further Reading:
Next: The Disney / Overwatch League Deal Will be an Important Gauge of Mainstream Esports Appeal
Previous: Approval for AT&T / Time Warner, Let the Games Begin

Comments
Be the first to leave a comment.
Post a Comment