Consumers not ready to embrace cloud-based digital locker solution for music and video
The industry is rapidly moving content solutions to the cloud, but consumer interest is not keeping pace, as less than 30% of U.S. broadband households find the digital locker an attractive alternative for music or video.
Cloud Media and the Digital Locker, a new report from Parks Associates highlights the challenges within the industry, including device and format interoperability, consumer awareness, and security and delivery issues. Market fragmentation is also a major inhibitor, and efforts including Digital Entertainment Content Ecosystem's (DECE) UltraViolet initiative and Disney's Studio All Access aim to overcome these barriers.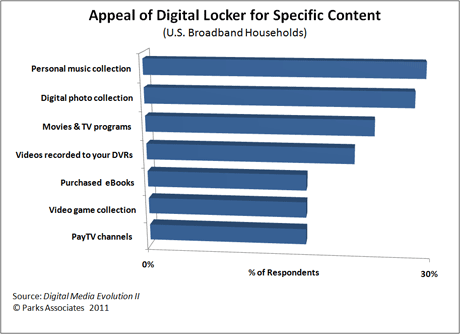 The benefits of cloud services are popular with consumers, indicating significant market potential. Access via mobile devices is important, and over 50% of U.S. consumers consider multiroom access to music and video content and guaranteed replacement of lost or damaged media to be equally important features of the digital locker.
Cloud Media and the Digital Locker examines how key players from content owners and distributors to platform and technology solution providers are tailoring their cloud-based solutions to include secure delivery, high quality, and ubiquitous access models.
Next: Nintendo Plans new 3D Super Mario Game, Announces AT&T, Netflix Collaborations
Previous: What "Cloud Computing" Could Mean to Consumers

Comments
Be the first to leave a comment.
Post a Comment