Consumers Show Concern over Security Issues for Connected Car Features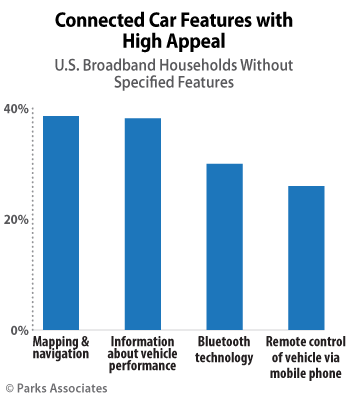 In the first quarter of 2015, Parks Associates surveyed U.S. vehicle owners living in broadband households regarding their familiarity with and use of various connected car and connected home services. The results indicate that American drivers are using a variety of connected features in their vehicles, and some express interest in car-to-home crossover features. Parks Associates forecasts that there will be 41 million active Internet connections in U.S. vehicles by the end of 2015. At the same time, one-third of U.S. broadband households plan to purchase a smart device this year. These ecosystems are growing in parallel and opportunities for cross-over features and services are beginning to emerge.
However, as appealing as consumers may find connected cars and smart home devices, consumers are concerned about the security and privacy of the data collected and transmitted via a vehicle's Internet connection. Recent high-profile media reports of hacks into smart baby monitors and connected cars (such as the recent WIRED-reported Jeep hack) have heightened consumer concerns over privacy and security for connected home systems.
Parks Associates' consumer research shows:
Over half of vehicle owners in U.S. broadband households are very concerned about the security of their personal driving data, and 55% are concerned about their location data.
Approximately 50% of broadband households have privacy or security concerns about smart home devices.
Consumers display greatest concern for connecting home devices that are related to smart security services and entry point devices.

Regardless of interest in smart home-connected car crossover and partnership opportunities, industry players must address these consumer concerns must be able to alleviate fear and remove adoption inhibitors.
For more information on the industry report Connected Cars and the Smart Home: Crossover Opportunities, click here.
Further Reading:
Next: Market Challenges for Smart Watches
Previous: Connected Car and Smart Home Market Convergence: Drivers and Barriers

Comments
Be the first to leave a comment.
Post a Comment