Connectivity: Impact of Gigabit Broadband, 5G, & Wi-Fi 6
The COVID-19 crisis has put fixed and mobile broadband networks to the test. Shifting work patterns and increased consumer use of connected devices and services at home bring into sharp focus the critical importance of the networks that provide the foundation of our connected lives. At this same moment, major shifts are occurring in the fixed and mobile broadband landscape.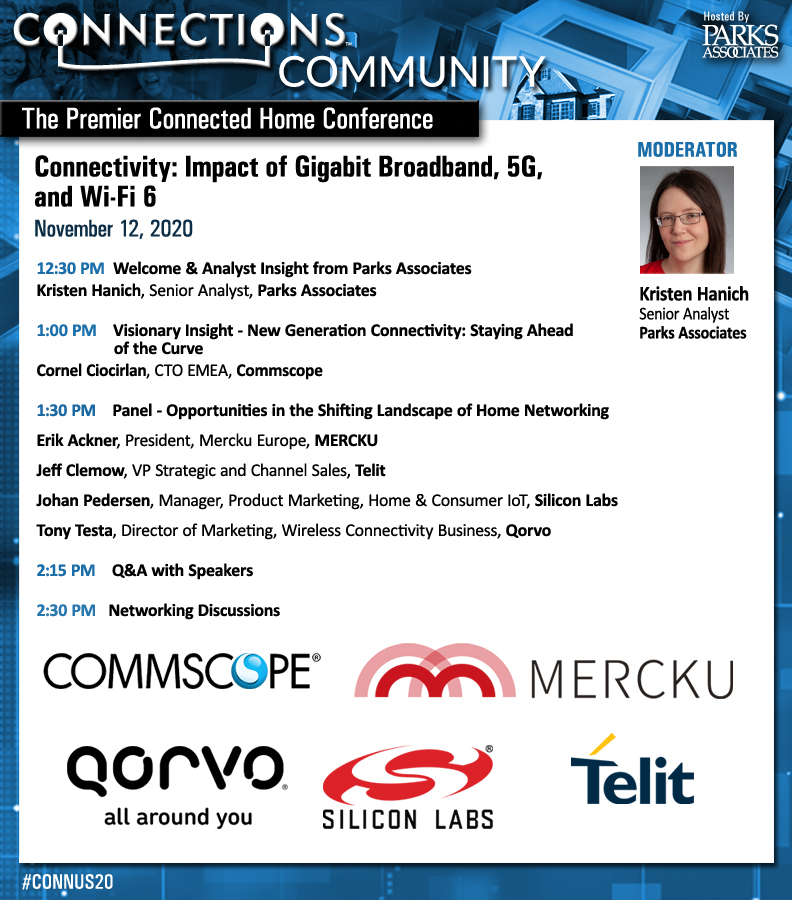 ISPs are re-evaluating their offerings as more and more consumers drop the broadband & pay TV bundle.
The 5G rollout will bring competitive pressure on fixed broadband providing consumers in many areas with more options for connectivity. Some look to 5G to ease the burden on mobile and home networks, providing superfast broadband speed, and highly reliable and low latency connectivity.
In this session, Parks Associates analysts evaluate the state of the market in connectivity to the home, revealing how major shifts will affect that connected home landscape. A visionary presentation addresses their response to the shifting demands on the network from changing consumer behaviors and outlook on the next generation of broadband and mobile competition. Additionally, a panel of industry experts discuss how smart home product and service development need to account for the rise of Gigabit Broadband, 5G, and Wi-Fi 6, and new opportunities unleashed by the next generation of home networking.
Next: Investing in the Future: 2025 Outlook
Previous: DIY: Impact on Smart Home and Security

Comments
Be the first to leave a comment.
Post a Comment