Connected Health Device Adoption on the Rise in U.S.
According to Parks Associates digital health research, ownership of connected health devices is on the rise in the U.S. In 2013, adoption of devices such as digital fitness trackers, networked weight scales, and connected blood pressure meters hovered around 24%; in 2015, that number is now up to 33%.
2016 will be a turning point for the industry—as the concept of the connected home and the greater Internet of Things continues to expand, so too will healthcare. As an interconnected industry, digital health players will benefit from the opportunity footprint the IoT provides, as will the consumers using these connected solutions.
Connected Health Summit: Engaging Consumers spotlights health technologies as part of the IoT phenomenon and the transformational impact of these connected solutions on the U.S. healthcare system. Each year, this event provides strategic insights into consumer engagement, care accountability, service innovations, and platform design to determine successful approaches in the deployment of connected healthcare products and services.
Here are what past attendees are saying about the event: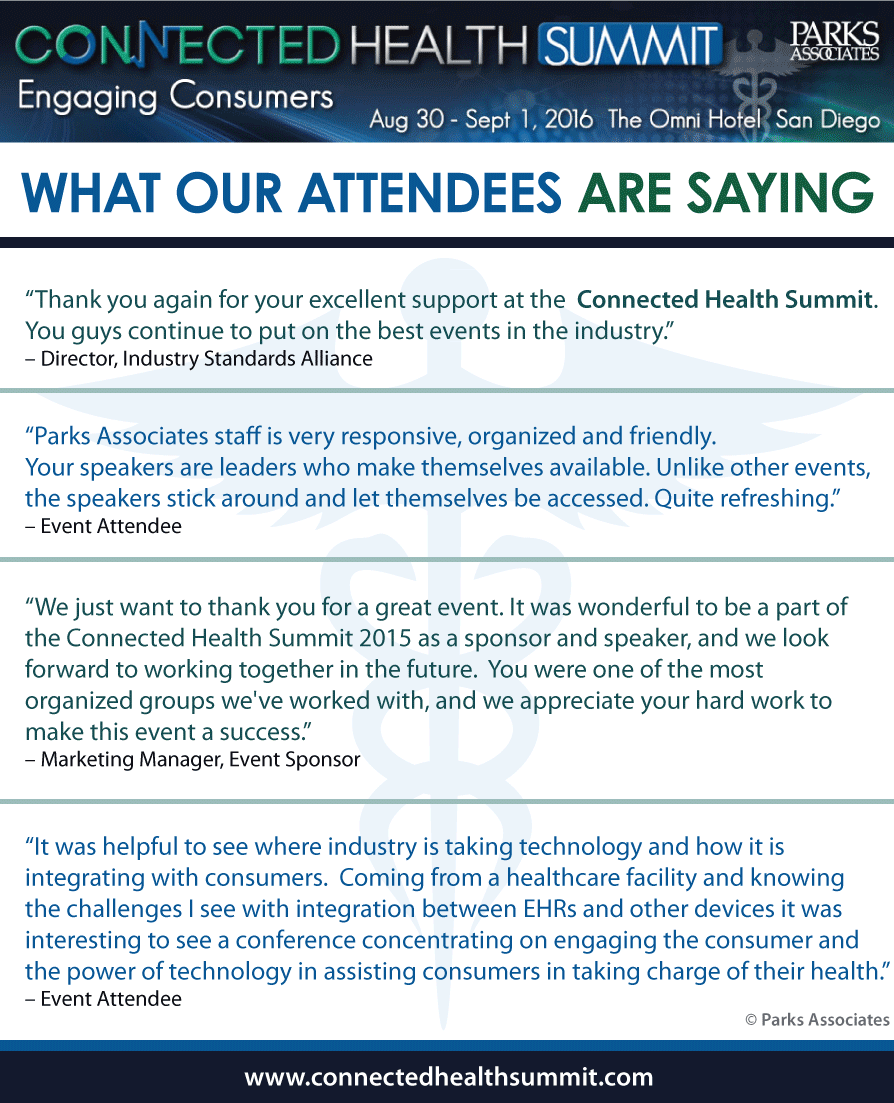 The 2016 Summit will take place August 30 - September 1, 2016 in San Diego. Healthcare is an interconnected industry, and 2016 marks a turning point for both connected health players and their consumers. The continued expansion of the connected home concept and the consumer-based IoT is growing the opportunity footprint for health solutions.
This year's conference will focus on the role of healthcare in the connected home, the impact of technology innovations and disruptions, success stories in expanding accountability and consumer engagement, and transformative business models for providers.
For more information about the 2016 Connected Health Summit, visit www.connectedhealthsummit.com, or follow the event on Twitter using #CONNHealth16.
Next: Wearables: Hearing Aids and Sleep Tracking
Previous: Opportunities for Wearables Device OEMs: Employers' Wellness Programs

Comments
Be the first to leave a comment.
Post a Comment