Connected Entertainment and the Smart Home: Bridging Parallel Ecosystems
by Lindsay Gafford | May. 15, 2019
At my panel during the Parks Associates CONNECTIONS 2019 conference next week, we'll be discussing the parallel ecosystems of connected entertainment and the smart home, how the convergence of these two ecosystems impacts network connectivity, and how companies are working toward achieving a unified experience between the two.
Parks Associates data shows that with each passing year, the average number of connected devices in US broadband households increases – as of Q4 2018, that number is up to 10.5 devices. As you can see on the chart below, it's not just connected entertainment and consumer electronics occupying this space. Over the past five years the average number of smart home and connected health devices in the household has steadily increased, a trend that is likely to continue for years to come.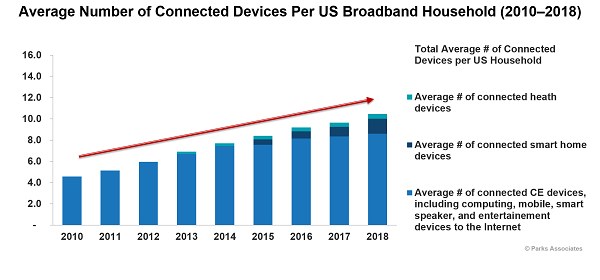 As the number of connected devices in the household increases, what do consumers find most important when making those purchases? Our data shows that more than any other factor, consumers seek interoperability. They want their new device to easily integrate with all the other smart devices in their home. They want easy and comprehensive interface options. They want convenience.
However, this convenience appears to be coming at a cost. The number one problem reported among US broadband households with regards to their connected or smart devices is loss of connectivity.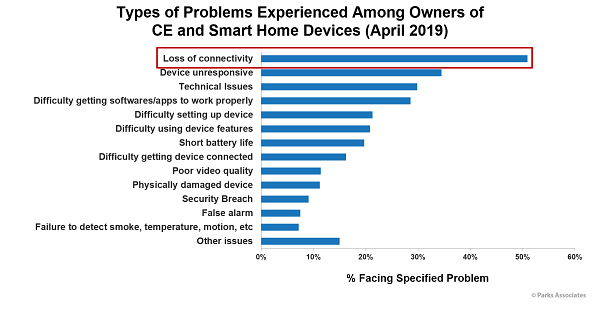 Increased media consumption, smart home device demands, simultaneous users, and network fluctuations certainly all play a role in this – what's the solution, if there is one? In an increasingly connected world, how are companies working to provide the best experience possible for consumers of connected entertainment and smart home technology?
The panelists participating in the Connected Entertainment and the Smart Home: Bridging Parallel Ecosystems session next Wednesday are going to give us some insight into these very questions. We hope to see you there!
Next: Universal Electronics and Microsoft collaborate on a turnkey digital assistant platform for the Smart Home
Previous: Is privacy an afterthought in a smart home?

Comments
Be the first to leave a comment.
Post a Comment