Connected Cars and the Smart Home: Crossover Use Cases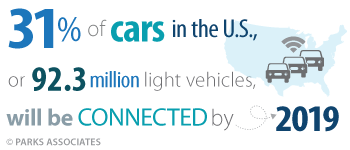 The connected car and smart home markets are both at an early stage of development, but in many ways they have been growing in parallel with each other: both are being enabled by falling costs of sensors, networking technologies, and data storage, as well as by expanded cloud services, the mass adoption of smartphones, and consumer demand for the connected lifestyle.
In 2015, these ecosystems are beginning to converge, with particular use cases, such as remote home controls, entertainment on-the-go, and home energy management, emerging at the intersection, Crossover opportunities in the connected car and smart home ecosystems bring additional value to consumers by providing safety features, convenience, and high-end, customizable user experiences.
Energy Management – Automating home energy controls via a smart thermostat from within the car has emerged as an early crossover use case. With insight into the vehicle's status or location, the thermostat can automatically set the home's temperature to "away" status, to minimize energy consumption.
Security System Interaction – Vehicle connectivity platforms can be used in conjunction with home security systems to prevent theft in the home. These systems can be engaged manually through security apps embedded or mirrored to the vehicle, or automatically via geofencing.
Lighting System Control – Smart lighting gives consumers total control over their lighting, inside and outside of the home. Using smartphone apps, users can control the amount of light emitted, and program lighting according to daily routines. Linking the car to the home lighting system provides value to the home owner by saving money and providing convenience. Integrating the two systems automates the task of setting the lights to the desired hue when arriving home, and automates turning all lights off when leaving for the day.
Electric Vehicle Charging – The connected car and smart home physically intersect when electric vehicle (EV) owners charge their cars. Therefore, automakers, utility companies, and consumers must coordinate their efforts to manage EV energy consumption.
Entertainment – Consumers can access entertainment options at home, work, on mobile devices, and in the car. Accessing entertainment options in these various ecosystems is often a disjointed experience requiring separate authentication points or different services. Mobile apps are bridging these ecosystems; however, there remains an opportunity to provide consumers with a frictionless entertainment experience, so that they can access desired content in the vehicle. A fluid home-to-vehicle entertainment experience is the highest priority for auto manufacturers. Automotive OEMs need to offer the most appealing way for customers to access infotainment experiences in the vehicle.

Both the connected car and the smart home industries are experiencing a period of tremendous growth. Consumer demand and industries' search for high margin or additional revenue products and services are driving both industries to develop innovative products and applications that can position them favorably in the important and fast-growing Internet of Things market.
For more information on this converging market, see Parks Associates' industry report Connected Cars and the Smart Home: Crossover Opportunities.
Further Reading:
Next: Binge On: T-Mobile Continues to Tempt Customers with Unique Perks
Previous: IOT Companies Struggle with Business Models, Channel Strategies at IOT World Europe

Comments
Be the first to leave a comment.
Post a Comment