Commercial drones take off but regulations are still on the ground
by Tu Skuse | May. 15, 2017
During keynote speech at XPONENTIAL 2017, Brian Krzanich, Intel CEO, focused very heavily on new and exciting technologies in unmanned systems, including drones (a.k.a. UAS – unmanned aircraft system) being deployed as data collecting medium. To demonstrate commercial drone capabilities, Krzanich introduced the Intel Falcon 8+ System with an example of infrastructure inspection.
While the excitement is real that commercial drones will take off to be a new business segment, there are still not many regulations in this matter. June 21st of 2016, The FAA (Federal Aviation Administration) finalized the first operation rules for routine commercial drones. This event could generate more than $82 billion for U.S. economy and create more than 100,000 new jobs over the next 10 years, according to industry estimates. These regulations provide a safety guideline for unmanned aircraft by requiring continuous sight of drones, no nighttime operation, height and speed restriction and protection of people uninvolved in flight operation. There is also age restriction and requirement for remote pilot certificate.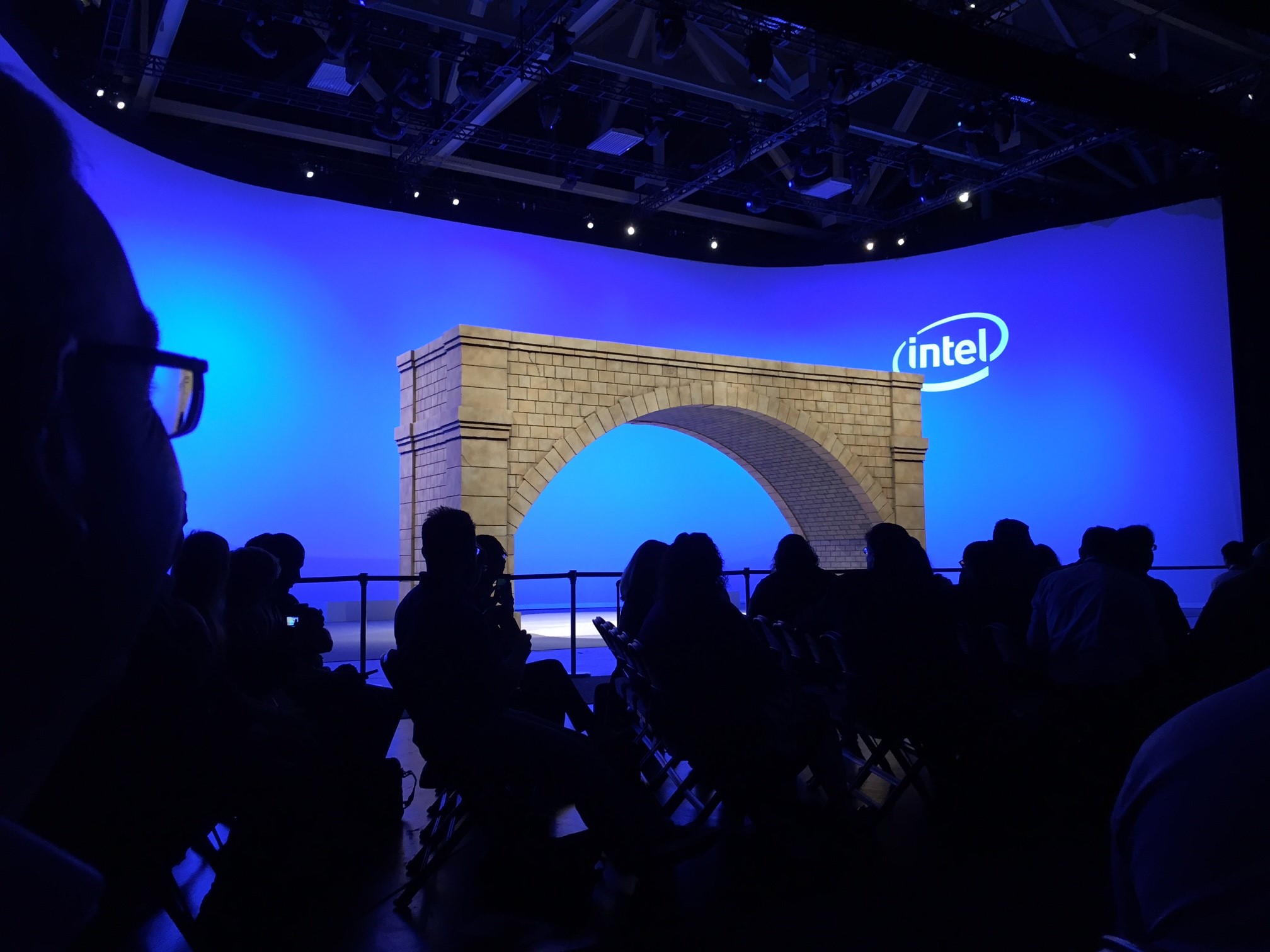 Bridge to demonstrate infrastructure inspection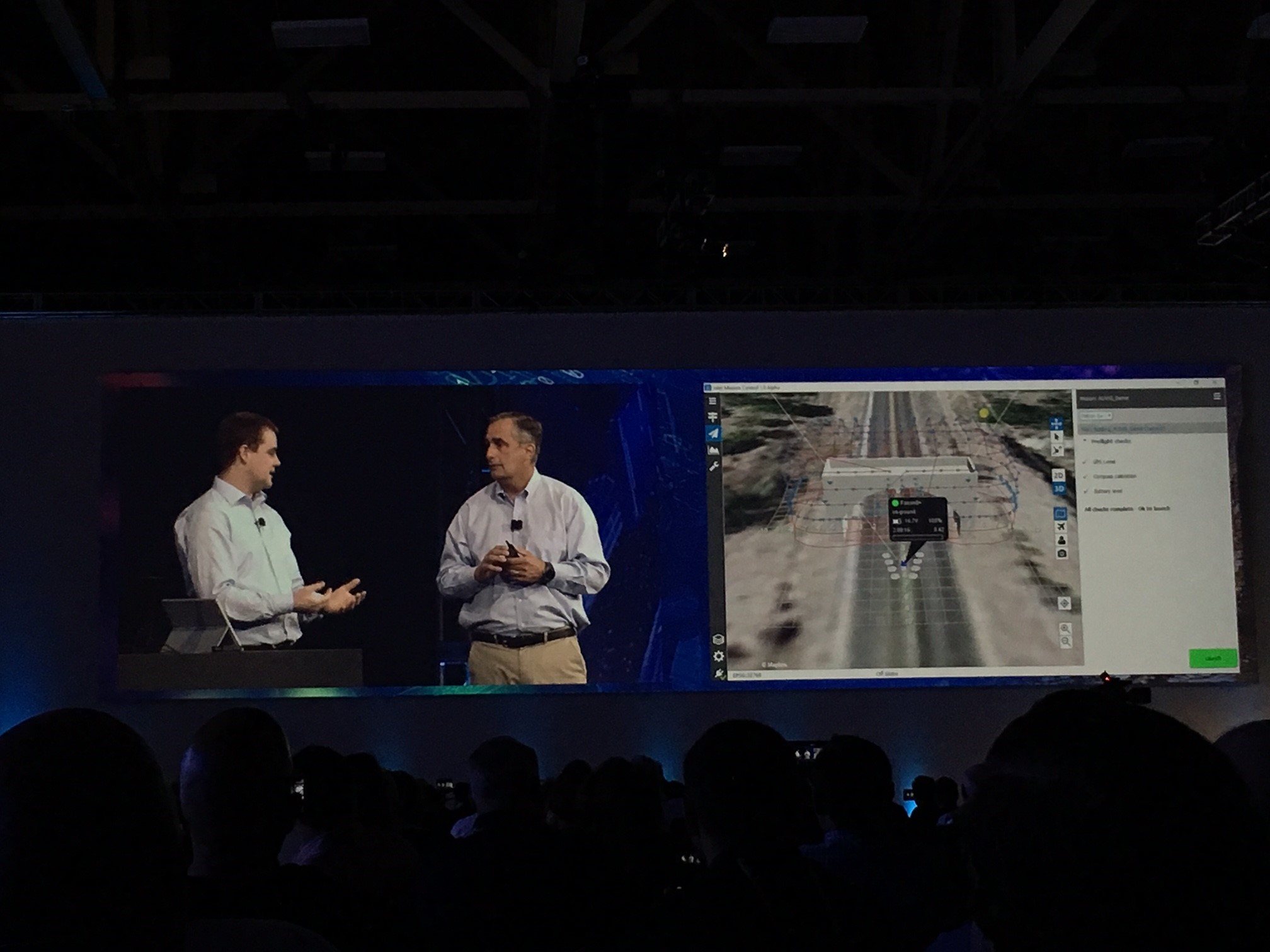 Intel CEO, Brian Krzanich (right) and Mission Control interface to plan Intel Falcon 8+ flight route and inspection image capturing
On the other hand, coming back to the function of drones as data collection medium, there are not yet regulations on how UAS gather data on people or property. During the demonstration of infrastructure inspection, Intel Falcon 8+ took less than 3 minutes to fully cover all surface of the bridge built for this exercise. The flight planning, management and post-processing was automated end-to-end using Mission Control software. Not only the data was accurate, the time it took to perform this inspection, which could have taken days for human to do, was also shortened by a few hundred times. That is a lot of data collected in a short time. It wasn't "easy" to do, but the technology will be available end of this year, allowing many companies and individuals to both legally and illegally collect data using unmanned aircrafts. The new rule from FAA does not deal specifically with privacy issues in the use of drones. Although some local or state laws cover this, they are still very brief and not yet caught up with latest UAS technologies.
New FAA rule also only offers safety regulations for drones weighing less than 55 pounds. With different purposes for commercial drones, hardware customization is necessary for drones to include fitting sensors that work best for each task. For certain purposes, drones might have to increase payload to add more equipment that add weight to more than 55 pounds. This will call for adjustments in regulations.
While drones are still serving mostly commercial and civil use cases, in the next few years, it will possibly reach the mass market. There will be the need for expansion of regulations for drones as use cases shift to personal purposes including hobbies and individual scale data collection.
Next: Apple Event Showcases New Machine Learning Technology
Previous: Connected Car Innovations Leading to Safer Roads

Comments
Be the first to leave a comment.
Post a Comment