Challenges of the Aging Population - Insights from People Power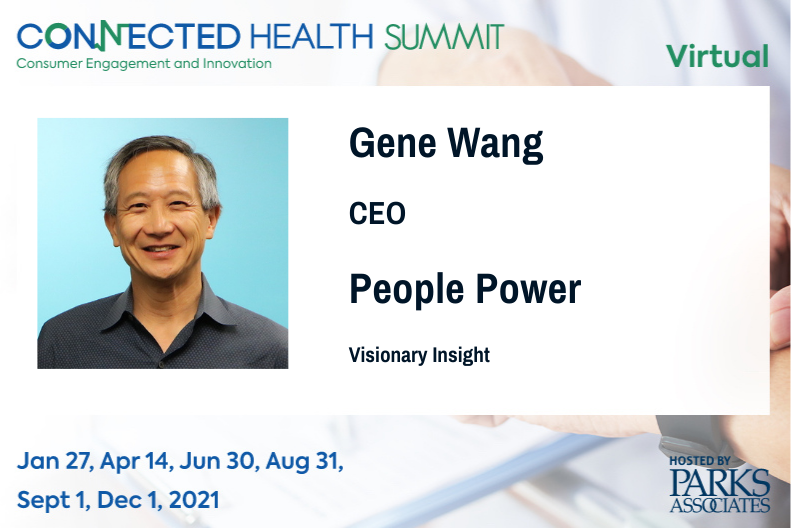 Parks Associates continued its 2021 virtual Connected Health Summit with a session on April 14, Leveraging the Smart Home for a Healthy Home, and Seniors and Caretakers: Serving A Massive Population at Home. Gene Wang, CEO, People Power, was introduced as the Visionary Insight speaker of Seniors and Caretakers: Serving A Massive Population at Home, where he discussed the potential technological innovations and opportunities available within the challenges of the aging population. Prior to the session, Gene provided insights on the exposed the vulnerability of the senior population as a result of COVID-19:
How has COVID-19 impacted the connected health market?
The pandemic has driven healthcare to adopt telehealth solutions. The next big transformation will be in driving homecare to adopt telehomecare solutions.
How have consumer attitudes towards connected health solutions shifted in the last year?
People such as my 84 year old mom have been conducting their doctor's appointments virtually and liking it. There's no waiting and you're not going to get sick from visiting the hospital.
Will shifts in consumer behaviors related to fitness, wellness, chronic care management, and care for senior populations outlast the COVID-19 crisis? How can solution providers keep consumers engaged over the long-term?
Telehealth is here to stay as companies like Teledoc have been showing with their amazing growth. Solution providers need to offer sticky services that consumers can't live without.
The healthcare economy has been severely disrupted in this crisis, but regulations and reimbursement for connected health solutions are trending positive – how will these competing forces impact the growth of the connected health market?
Government needs to continue increasing reimbursements and provide good coverage for telehomecare to reduce the cost of senior care dramatically.
As our population ages, there are not enough caregivers to handle their needs. Let's dramatically increase the efficiency of caregivers by giving them automated 24/7 caregivers that let them know when, or even before, care recipients need medical help.
Join us this year for our Connected Health Summit! Register now.
Next: Scaling Music as Medicine - Insights from Musical Health Technologies
Previous: A Wakeup Call for the Connected Health Market - Insights from Electronic Caregiver on Digital Health

Comments
Be the first to leave a comment.
Post a Comment