Challenges of a Reduced Workforce – Insights from Nice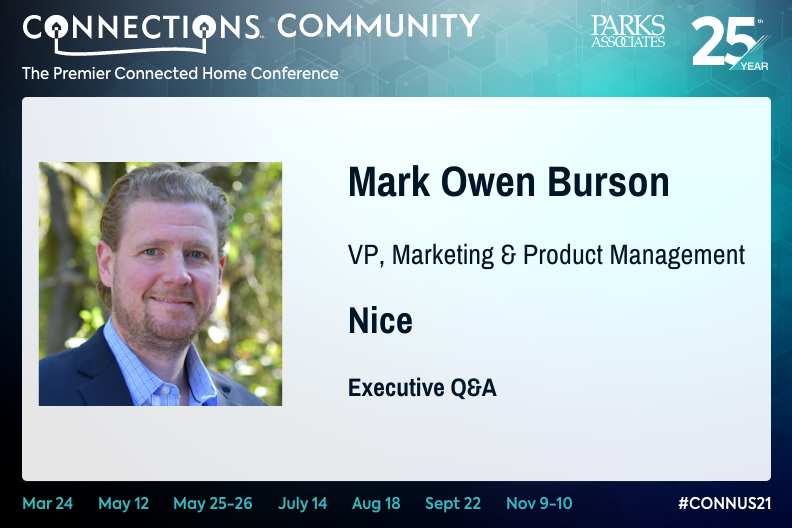 Parks Associates continues its 25th annual CONNECTIONS:The Premier Connected Home Conference with a session on May 25, State of the Smart Home, and Pro-Installers and Home Technologies. Mark Owen Burson, VP, Marketing & Product Management, Nice, was introduced as a speaker of Pro-Installers and Home Technologies during the Executive Q&A session, where he and Jennifer Kent, Vice President, Research, Parks Associates, will discuss the evolution of the smart home. Prior to the session, Mark provided insights on how the smart home space meets the needs of remote workers and how COVID-19 has influenced consumer's decisions regarding home security:
How is the smart home ecosystem positioned to meet the needs of the growing remote work market? What opportunities and challenges exist that can further or prevent convergence between the smart home and remote work?
The proliferation of remote work during the COVID-19 pandemic put the importance of a robust home network under a microscope. With millions adapting to not only work from home but also ensure their children had a suitable environment to learn from home, becoming connected became more important than ever. Many made updates to fortify their home networks to handle the increase in bandwidth and sheer number of connected devices. For those who already had smart home devices installed, their everyday performance became even more vital as we collectively sought a new normal. After investing in their home network, many of those without smart home technology began adopting solutions to satisfy the need to simplify daily tasks.
Smart home technology is well positioned to meet the needs of the growing remote work market because it can be deployed to help make a home office mimic a traditional office space. Within a traditional office, it's uncommon to have workflow disrupted by a delivery but at home, that is common. Smart home solutions as simple as a connected Wi-Fi camera make it possible for an individual working from home to know there's been a delivery and verify it is at their front door — or even remotely unlock their front door or open their garage door for the item to be placed securely inside — without having to leave their at-home workspace. Alternatively, with others either working or learning from home, the likelihood of being disrupted at skews upwards. Even connected lighting can be configured to provide a visual indication that someone is not to be disturbed during an important meeting or video conference. Parents balancing remote work and remote learning can also deploy a host of solutions such as door/window sensors, motion sensors, connected cameras, or voice assistants to help keep an eye on children within the house who are supposed to be attending virtual classes.
The smart home ecosystems — whether that system is a simple to install DIY solution, or a more complex, professional system — can be used to help maintain balance between at-home time and working hours. In some cases, these solutions can even be leveraged to create a more productive working environment that helps shut out distractions and automatically adjust the home environment to maximize productivity. For example, smart home scenes can be automatically set to keep a working space at the ideal temperature or adjust smart blinds to let the perfect amount of natural light in and adjust throughout the day.
As companies continue to improve upon ways to serve consumers at home, what are the top challenges—in addition to COVID-19—they are facing? Which challenges are temporary (COVID-19 induced) and which do you think will last as vaccines become more available and cases decrease even more?
With the COVID-19 pandemic forcing many companies to reduce their workforce, it has become a challenge for them to find new employees to fill vacancies as the United States begins reopening. This has affected their ability to continuously serve customers and keep up with the demand for the products and services. As the United States vaccinates citizens and moves closer to achieving herd immunity, this problem should gradually decline. It doesn't necessarily mean that everyone will return to their offices, as some might still opt to continue working from home, but companies will eventually see a return to normal workforce levels.
Aside from the global pandemic, the ongoing semiconductor chip shortage has forced companies to rely on other countries and providers to source semiconductors and required materials. This dependance and disruption in normal supply chain logistics is causing significant backlogs and delayed shipping for many companies within the US. The shortage combined with supply chain disruptions means solutions that many desire or require to continue working from home effectively are being negatively impacted and not arriving on-time.
As more consumers spend more time at home than ever due to social distancing efforts and other household behavior shifts, how have the key drivers for security and smart home purchase changed in the last year or two?
The global pandemic has made people more aware and appreciative of their surroundings and there has been an increased desire to improve and upgrade their homes. Which is why it is not surprising that, over the past year and a half, sales of smart home solutions have increased. According to Parks Associates, 40 percent of security dealers reported installing DIY systems in 2020, which is up significantly from the previous year. This is an important shift in the industry as security dealers pivot and expand their portfolios by adding DIY offerings to meet the needs of consumers.
Prior to the COVID-19 pandemic, security was the primary driver of smart home adoption because homeowners wanted to ensure their property was protected while they were away. While security is still in first position, with people spending more time at home than ever before, convenience and the promise of simplification has advanced as a significant driving force behind adoption.
Homeowners are seeking solutions that solve for everyday problems suddenly made more evident by the amount of time spent at home. Examples include solutions that could automate or manage lighting or HVAC, or simply provide insight into who is at the front door from their smartphone.
Aside from wanting to improve home security, the rise of DIY smart home solutions has created more demand for such products. The ability to integrate multiple smart devices using a single system and monitor them straight from a smartphone has increased the appeal of DIY solutions. As of last July, Park Associates research found that 55 percent of security systems bought were DIY installs, compared to just a third who bought professionally installed systems.
What are some of the new home services that manufacturers are introducing to extend the value of smart home devices in ways that add convenience to consumers' lifestyles? What key challenges impact each service?
Smart security companies have recently launched several advanced features that added to consumer appeal for their products. Location, IFTTT, and time-based automations have enabled users to arm/disarm their security system automatically when they leave or arrive home, or when it's sunrise or sunset. These allow users to virtually keep security in the back of their mind and save time doing other important tasks instead of having to arm/disarm their system every time, but still retain the peace of mind a security system provides.
Systems that seamlessly integrate with third-party smart home devices such as smart switches, smart bulbs, smart outlets, water leak sensors, and door/window sensors have also enabled homeowners to live efficiently and sustainably by reducing electricity and heating costs or the impact of water leaks.
Also notable is the rapid proliferation of smart home cameras. These devices serve as a vital entry point for consumers looking to make their foray into the smart home ecosystem. Their value proposition is simple and easy for customers to understand: keep an eye on your home or loved ones when you're not around. Their value extends beyond notification of unwanted visitors too. As time spent at home skyrocketed during the COVID-19 pandemic, so too did the at-home ordering and delivery of everything from everyday goods to meals and foods from favorite local restaurants. Smart home cameras are becoming linked with ensuring a delivery occurred and was left safely outside until collected or notifying homeowners that dinner has arrived.
However, it's important for companies to maintain strict protocols and policies as privacy concerns, device security, and device compatibility are some of the issues that could impact key features and value propositions.
There is an emergence of new smart home use cases being driven by improvements in sensor technology and artificial intelligence. How will these improvements affect adoption of different smart home technologies?
Improvements in sensor technology and artificial intelligence will make smart home security devices even more appealing to consumers, especially if these improvements translate to improved security, reduction of costs, greater sustainability, and increased value for their property. As such, it could lead to an increase in new customers as well as an increase in the purchase of additional smart home devices among those who already have an existing smart security system. What we are ultimately moving towards is the contextually-aware smart home. As battery life of smart home devices continues to improve and as sensors continue to shrink in size, eventually we will reach a point where they can be deployed in hard to reach places throughout the home and provide valuable data points over a longer period of time. Improvements in sensor technology will enable a multifunction sensor to become "set-and-forget" in an attic, basement, or even installed behind drywall to provide data points. Improvements in AI systems would then be able to act upon this increased flux of information and enable the home to make informed decisions or change settings without manual input.

How are smart home products and services evolving to serve multidwelling unit (MDUs) markets? What key challenges and opportunities are manufacturers facing?
Multi-dwelling units have huge overhead costs for property owners and managers, particularly when it comes to heating, water consumption, and electricity. But recent improvements to smart home products and services for the MDU market, such as smart meters, water sensors, and HVAC systems, it has become more cost-efficient and sustainable for owners and managers to operate their properties. This has become particularly helpful as property owners and managers have been impacted by the global pandemic.
As the global semiconductor shortage drags on, manufacturers of smart home products and services are facing difficulty meeting increasing demand for their products. With efforts to produce rare earth elements like lithium in the continental US, we see a potential opportunity to overcome this shortage.
How has COVID-19 and related factors impacted intentions to purchase or upgrade security systems?
While there has been an increase in the demand for smart home security systems during the COVID-19 pandemic, as unemployment caused by the pandemic continues, it will affect the ability of American consumers to buy consumer products like smart home security systems. However, we see a recovery already beginning and expect trends in smart home security purchases to trend even further upward as people resume full employment.
Join us for our 25th annual CONNECTIONS Conference! Register Now

Next: CONNECTIONS Conference Celebrates 25 Years
Previous: Project Connected Home over IP Releases Details and Roadmap

Comments
Be the first to leave a comment.
Post a Comment