CE purchases low in first half of 2009, but consumer intentions higher for the second half
PCs and flat-screen TVs remain popular; netbooks starting to generate consumer interest
The recession continues to limit CE shopping, as nearly 50% of U.S. broadband households did not buy a CE product in the first half of 2009, according to Parks Associates' Consumer Decision Process.
This ongoing service, which surveys consumers on their past purchases and future intentions for over 35 CE products, found consumers are still hesitant to buy, with fewer households overall buying CE than in 2007 and 2008.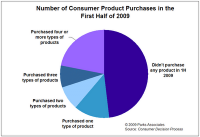 The most popular purchases in the first half of 2009 were desktops, laptops, and LCD flat-screen TVs, with 14-17% of households buying these products. With 5% of households purchasing in the first half, netbooks are showing a strong market start. Intentions to purchase netbooks are fairly high for the second half of 2009; this new product category will be in over 10% of broadband households by New Year's.
Parks Associates' Consumer Decision Process service provides comprehensive tracking and analysis via multiple surveys throughout the year on consumer purchases, intentions, brands, brand loyalty over time, shopping processes, information sources, prices paid, future budgets, and triggers to purchase phases. The next survey will measure holiday shopping intentions of U.S. consumers.
Tricia Parks will present data and analysis from Consumer Decision Process at the upcoming Webcast "Year-end Outlook for Consumer Electronics Purchases."
Next: Western Digital Introduces the WD Live Media Player
Previous: Defining the Connected Home

Comments
Be the first to leave a comment.
Post a Comment