Broken Trust: Facebook Data Exposure Reinforces Consumer Privacy Concerns
by Craig Leslie | Apr. 10, 2019
Consumers of connected entertainment products and services are enjoying an unmatched period of choice. The number of connected devices per household has almost doubled in the last decade, providing consumers with viewing options from large screen smart TVs to handheld devices such as smartphones. OTT service providers continue to disrupt the pay-TV market with over 200 services offered, a 37% increase since 2016.
Each new connected device and service increases consumers' potential enjoyment, but also adds to their list of concerns about their personal data, consumption habits, and financial information being hacked, misused, or sold to unknown third parties. These concerns were certainly reinforced by last week's news of yet another data security failure at Facebook. Only a year after the company's widely covered Cambridge Analytica scandal, cybersecurity firm UpGuard found that third-party app developers were storing Facebook user data on a publicly accessible Amazon Web Services server. In one instance, 540 million records of Facebook user's identification numbers, passwords, and messages were accessible to anyone. Though Facebook was able to promptly have the sites taken down, consumer confidence won't be so quickly restored.
Instances such as this threaten the very ecosystem of the connected world. Consumer willingness to share personal data is an integral component of connect entertainment, and now more than ever consumers are highly concerned over the security of their personal data. In a 2018 survey, Parks Associates found that three-quarters of consumers are concerned about unauthorized access of their personal data. Providers of all types, but most especially social media or video sharing site providers, should be highly troubled that fewer than half of consumers trust these companies to adequately safeguard their data.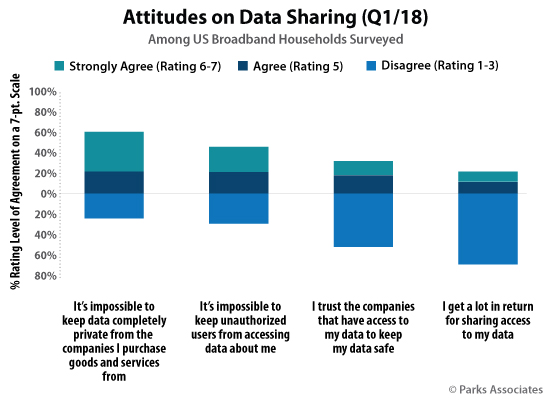 Protecting consumer data and mitigating consumer concerns are critical areas to focus on for service providers as they continue to develop data applications and mitigate risk in their business models. Failure to do so incurs the growing risk of alienating users who will reduce the amount of data they are willing to share. Simply offering more user control options and a clearer explanation of data usage is a good starting point; Parks Associates found that 59% of US broadband households believe that adopting practices such as these would be an effective means of increasing their confidence in an online service provider.
Companies operating in the connected entertainment ecosystem stand to benefit from greater understanding of consumer concerns, views on privacy and security, and willingness to provide their personal data. The companies that are successful at mitigating these concerns stand to reap volumes of valuable data and deliver a more engaging user experience, thus securing higher levels of customer loyalty and long term revenue streams.
For a deeper look at consumer concerns over personal data security, please check out Parks Associates' consumer study, 360 Deep Dive: Consumer Fears in Connected Entertainment.
Further Reading:
Next: Key Takeaways from the 2019 NAB Streaming Summit
Previous: The Future of OTT Services in the US

Comments
Be the first to leave a comment.
Post a Comment