Penetration & ARPU Levels Continue to Rise for Stand-alone Broadband Services
The balance of power in broadband market share is set to change in the U.S. market. Thanks to continued consolidation among U.S. operators, the face of competition in the U.S. market is set to change substantially within the next year. After bidding for Bright House Networks, Charter Communications elected to purchase Time Warner Cable following its failed merger with market leader Comcast. This combined company will become the second largest broadband provider in the U.S. market. At the same time, Verizon sold a substantial share of its fixed line footprint to Frontier Communications, a deal that will vault Frontier into a position among the nation's leading broadband providers.
In the infographic below, Parks Associates outlines the growth in U.S. broadband penetration, as well as the changing ARPU for stand-alone broadband services: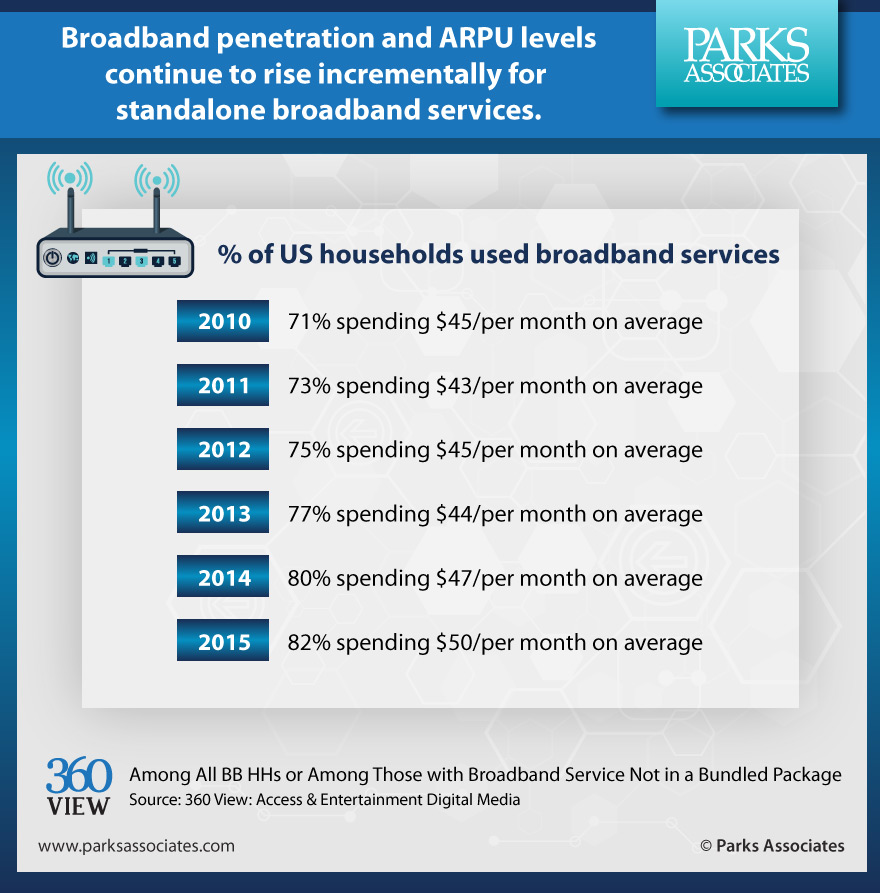 For additional information on the increasing market for broadband, see Parks Associates' consumer studies, 360 View: Entertainment Services in U.S. Broadband Households and The Need for Speed: Broadband and Data Consumption.
Further Reading:
Next: Telefonica Eyes AT&T Operators in Latin America: Parks Associates Analysts Respond
Previous: Reasons U.S. Broadband Households Intend to Cancel Broadband Service

Comments
Be the first to leave a comment.
Post a Comment