Blockchain: More than Cryptocurrency
Popularized by Bitcoin in 2009, blockchain started out as a public ledger for cryptocurrencies. In 2018, however, blockchain has been highlighted for its potential to help IoT providers in creating more efficient and secure network opportunities for consumers. Parks Associates' newest industry report, Blockchain for Connected Home and Entertainment, examines how this not-so-new technology can alleviate privacy and security concerns in the smart home and digital entertainment markets.
With more and more consumers adopting connected devices, fears of hacking and data mining are increasing. Parks Associates recently reported that about a third of U.S. broadband households do not intend to purchase a smart home device because of these concerns. With blockchain, smart home and entertainment providers can offer a solution that eliminates single points of failure and add layers of data security that will protect consumers from unauthorized users.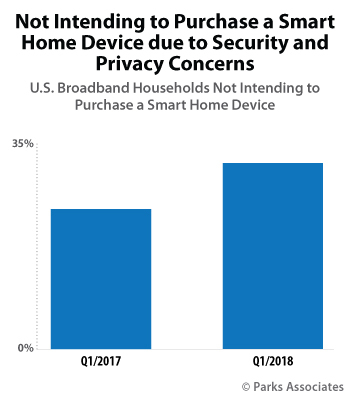 Unfortunately, blockchain technologies are still in their early stages and not universally understood by the majority of consumers. For blockchain to become successfully implemented in mainstream products, solution providers will need to develop a basic model that can be shared and easily manipulated by devices like smart speakers, smart TVs, and other connected technologies.
Blockchain for Connected Home and Entertainment highlights several opportunities where blockchain can be beneficial, including for digital media services, in connected health applications, and within the smart home. The report also includes recommendations and success factors for implementing blockchain in consumer markets.
For more information or to purchase this report, click here.
Further Reading:
Next: Discussing the European Smart Home with F-Secure
Previous: Securing the Internet of Things - OCF 2.0 Specification

Comments
Be the first to leave a comment.
Post a Comment