AT&T Aims To Shutter Pay-TV With DirecTV Deal
by Liam Gaughan | Feb. 26, 2021
The $48.5 billion purchase of DirecTV by AT&T in 2015 collided with a rise in cord cutting that dominated the video market. The six years that has followed saw an emergence in video streaming services as an alternate to traditional TV packages that resulted in major losses for AT&T's premium TV services. AT&T was in a difficult position with its legacy video assets and has invested its future in its flagship streaming service HBO Max.
AT&T's sale of a 30% stake of the DirecTV, AT&T TV and U-Verse business to private equity firm TPG comes as no surprise. While AT&T's intention is to exit the market completely, a whole sale of DirecTV to rival DISH Network was blocked by the FCC in 2002. As AT&T searches to sell off its remaining 70% stake in the revamped DirecTV, remaining pay-TV providers will be vigilant in their efforts to retain profitability of their assets.
Data from Parks Associates shows a dramatic shift in the video market in the six years since AT&T's initial DirecTV purchase. The percentage of users only subscribing to pay-TV took a dive from 36% to 14%, while the percentage of users only subscribing to OTT services skyrocketed from 11% to 23%. The low introductory prices ($4.99, $6.99) of streaming services, along with the option for free trials, continue to upend more expensive broadcast packages as households search for cost efficient video options. Financial concerns raised by COVID-19 have only amplified this trend as the future of the market.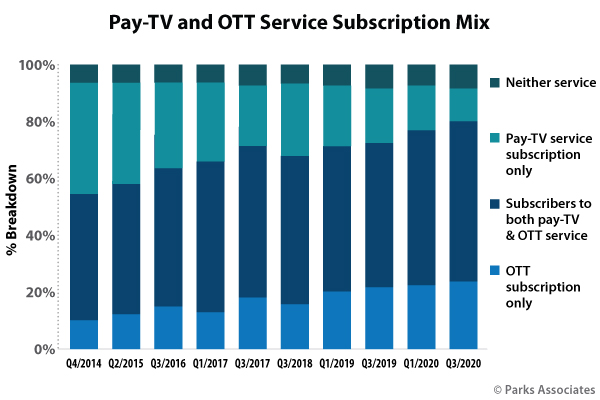 The sunsetting of traditional pay-TV services by AT&T, one of the largest providers, increases the pressure on rivals Comcast, Charter, and DISH Network to provide more dynamic broadband services.
Over-the-top linear services such as Hulu with Live TV, fuboTV, and Sling TV have emulated the linear model with more cost efficient packages. The relaunched DirecTV will be looking at those services as a model for modern multichannel programming.
Pay-TV is no longer the fixture that tops the video hierarchy, and AT&T's deal indicates that the company sees the prospects of paying off its accused debts as more valuable than an attempt to salvage its pay-TV arm. Rival providers will be under similar pressure from their stakeholders to either streamline their offerings or generate renewed viewer interest in their legacy models.
We will continue to see broadband providers looking for new ways to generate revenue as this shift continues. Interestingly, DISH Network just announced a new partnership with ADT and its subsidiary, OnTech Smart Services. OnTech Smart Services launched in 2019 as a competitor to Geek Squad that will also serve as an installation provider for ADT security products and services. The partnership will allow DISH to market, sell, and install ADT smart home security products and services, expected to begin in Q2 2021.
For a deeper look at the broadband and entertainment space, please check out the Parks Associates' research in these areas.
For more information about Parks Associates research, visit http://www.parksassociates.com or call 972-490-1113.
Next: Using Technology to Bridge Broadcast and OTT Video
Previous: Apple TV+ Extends Promotion to Retain Subscribers

Comments
Be the first to leave a comment.
Post a Comment