AT&T's WarnerMedia Places Max Bets on Upcoming SVOD
by Brandon Riney | Nov. 5, 2019
During AT&T's WarnerMedia Day on October 29, the company announced details of its upcoming streaming service, HBO Max. Previously, sparse information existed regarding the SVOD, with only an idea of its name, a general launch date, and limited knowledge of its content library. However, event presenters uncovered highly anticipated details that have remained speculative until now.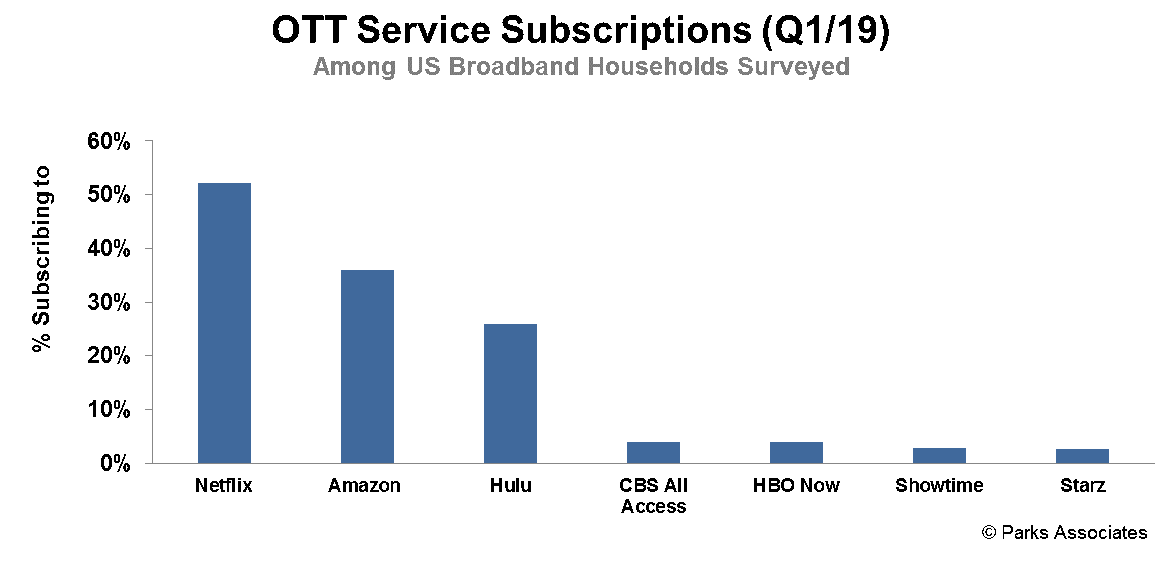 HBO Max joins others in an attempt to steal some of the thunder from the "big three" OTT services—Netflix, Amazon Prime Video, and Hulu. Of the 72% of US broadband households who subscribe to at least one OTT service, 91% subscribe to at least one of the big three services. Netflix, Prime Video, and Hulu have remained kings of the hill for years, but AT&T seeks to use its reach and experience of WarnerMedia in video entertainment to challenge this hierarchy with a powerhouse offering of its own.
AT&T announced that HBO Max will be launching May 2020, although the exact date was not specified. The service will provide a compelling lineup of content that competes with the current OTT leaders. HBO Max will launch with 10,000+ hours of content that incorporates the entire HBO offering with an exclusive library of Max Originals. Select titles from WarnerMedia's brands and libraries, such as Warner Bros., DC, New Line Cinema, and Looney Tunes, will also populate the service. Additionally, HBO Max will feature premium acquired content, such as exclusive streaming rights to all of Studio Ghibli's animation films, the largely popular sitcom Friends, and hit animation comedy series South Park. The breadth of HBO Max's offering places the SVOD as an appealing choice in online video entertainment for many households.
Perhaps the biggest, and most puzzling, announcements relate to the service's price and distribution. HBO Max will cost $14.99 per month, the current pricing for the company's HBO offering. AT&T explained that all HBO NOW subscribers who are billed directly through HBO and AT&T pay-TV customers (i.e. DIRECTV, U-Verse) with the HBO add-on will receive access to HBO Max for no additional charge. The company is currently working on deals with third-party cable providers to provide access for their customers who also subscribe to HBO. Additionally, subscribers on AT&T's new premium mobile and broadband services will be offered bundles that include HBO Max at no extra cost. These existing customers will provide HBO Max with a large initial subscriber base, rather than having to build it from the ground up.
Previous theories suggested that, given the additional content HBO Max provides, the service would have to be priced higher, rumored to be around $17 to $19 per month. Placing the service on par with HBO provides more value to existing HBO subscribers while providing no incremental revenue. However, it essentially tells consumers that there is no incremental value to the extra content that is provided. Additionally, all of the service's primary competitors have opted for a lower price point (Netflix, Hulu, Prime Video, Disney+, and Apple TV+), so consumers will compare HBO Max's significantly higher priced offering to these popular alternatives.
Parks Associates research finds that the number of OTT households adopting multiple subscriptions is growing, with 46% of US broadband households subscribing to two or more services. Given that HBO Max will be one of the highest-priced SVODs in the OTT space, consumers will be more likely to make a trade-off decision instead of complementing their existing subscriptions. This could be good news for HBO Max, so long as their offering proves more valuable to consumers than its rivals. However, AT&T also announced its plans to offer an ad-supported version of the service in 2021 for a lower monthly cost. This is likely the best path forward and most reasonable for WarnerMedia in order to effectively compete with other major players.
AT&T mentioned that it would offer a bundle of AT&T TV, the company's newest online pay-TV offering, with HBO Max, although it did not go into the specifics. This appears related to earlier reports from WarnerMedia's CEO John Stankey stating that HBO Max will include live TV and sports content, with plans to eventually merge AT&T TV Now (formerly DIRECTV NOW) into the SVOD. This will be a significant differentiator from other major services like Netflix, Prime Video, Disney+, and Apple TV+. However, including live content behind a paywall might limit the revenue opportunities for expensive live content, particularly live sports. It will also drive the cost of the service well above its announced $14.99 per month, and ultimately place HBO Max in direct competition with Hulu + Live TV.
It will be interesting to see how the industry responds in the coming years after HBO Max, along with other major players like Disney+, Apple TV+, and Peacock, form entry into the market. Disrupting established leaders in the OTT space will not be easy, as consumers become overwhelmed by a saturation of services with increasing costs. Nevertheless, AT&T is mustering every strength it has across its assets to provide a compelling offer.
HBO Max, among every other online video contender, will be tracked in Parks Associates' OTT Video Market Tracker, which features an exhaustive analysis of market trends and profiles of over 300 over-the-top video service providers in the US and Canada.
Further Reading:
Next: The Rise of Ad-based OTT Services
Previous: 5G Has Arrived, But Widespread Adoption Remains Years Away

Comments
Be the first to leave a comment.
Post a Comment