AT&T - Assembling the Pieces for Success in Digital Advertising
by Craig Leslie | Aug. 24, 2018
AT&T has ambitions on transforming from a wireless and broadband provider to a "modern media company" and recently made a number of acquisitions towards this objective:
The $84 billion buy of Time Warner gives them a wide array of content and strong portfolio of household names. Key among these are HBO with its 130 million subscribers and TNT, which is standard on most pay-TV bundles.
The giant increased its content and digital advertising capabilities with the purchase of Otter Media. Assets acquired included Crunchyroll (streaming anime), Fullscreen (YouTube focused studio and advertising agency), Rooster Teeth (gamer targeted video) and Reese Witherspoon's Hello Sunshine.
Acquiring AppNexus and its digital advertising platform for $1.6 billion gives them the ability to link AT&Ts warehouse of data directly with advertising.

AT&T's driving force for this move is the declining revenues of their video entertainment business as more consumers abandon traditional pay TV for OTT offerings. An industrywide trend, Parks Associates found that 77% of U.S. households subscribe to pay TV, down from 87% in 2014.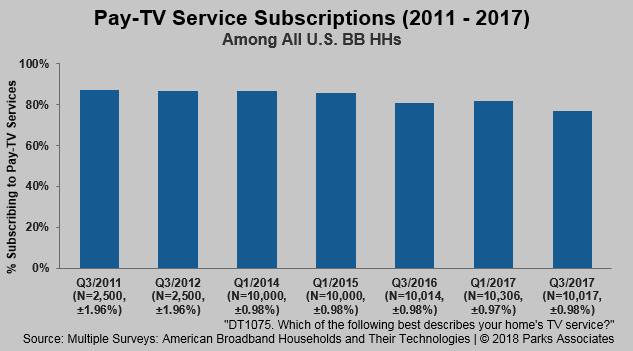 Further challenging their current business model is the trend of consumers watching fewer hours of video content of all types. A recent Parks Associates survey determined that U.S. consumers watch just over 25 hours of all types of video per week. This represents a 13.7% decline from a peak of almost 30 hours per week in 2013.
For AT&T, the future is dependent on maximizing the monetization opportunities of their current business and developing new revenue streams. Chief among these is the expansion of their digital advertising business with a specific focus on addressable advertising. This was a strong rationale for the Time Warner purchase, with AT&T maintaining that content from the acquisition would help it offer more targeted ads across its range of platforms. They view the combination of the data from their 170 million wireless, broadband, and pay-TV customers and advertising inventory on WarnerMedia's networks as enabling them to effectively compete with Google and Facebook in this space.
This increased focus on data and advertising was highlighted during WarnerMedia CEO John Stankey's meeting with HBO staffers earlier this year. During the meeting, Mr. Stankey stated:
"I want more hours of engagement. Why are more hours of engagement important? Because you get more data and information about a customer that then allows you to do things like monetize through alternate models of advertising as well as subscriptions, which I think is very important to play in tomorrow's world."
Another key component of their strategy is the creation of the new AppNexus-based ad platform to sell more targeted advertising to consumers regardless of the users' preferred delivery means or physical location. For example, AT&T-owned content such as "The Sopranos" could now be run through HBO or on a Roku platform. The AppNexus platform also allows AT&T to sell ads directly, enabling companies to purchase ads in the same manner they buy ads on Google or Facebook.
In June, Brian Lesser, CEO of AT&T's advertising and analytics unit, spoke of the importance of the platform:
"The future state of the ad business is a platform business. Google and Facebook prove that platforms rule. When you make it easy for advertisers to efficiently buy at scale and generate performance, that's what they will choose."
Companies buying ad space from AT&T also stand to benefit from AT&T's abilities to follow consumers across all their connected devices. This may become increasingly valuable as consumers continue to expand the number of connected devices they use for viewing content. Parks Associates determined the average consumer owns 6-8 internet-connected consumer electronics devices and splits their viewing time between combinations of them. Given this scenario, AT&T could potentially use data to determine if someone who sees an ad for Disneyworld on TV later visits Disney's website from their home PC or contacts a Disney Guest Services via phone. This illustrates how the ad that influenced a viewer could be used to improve future campaigns, or possibly even modify a current campaign.
AT&T's transformation plans are highly ambitious, however, their most recent quarterly performance demonstrated positive early results with double digit growth in their Ad-Works business. Future success will be dependent on successful integration of their newly acquired companies, including the tying together of all the desperate consumer data in order to offer a more compelling advertising proposition.
It also remains to be seen how Facebook and Google will respond to AT&T's push in to what has historically been their space.
Next: Augmented Reality: Next Generation Technical Support
Previous: Video Survival vs. Success: Operating at Web Speeds

Comments
Be the first to leave a comment.
Post a Comment