Amazon is not Slowing Down in the Smart Home Space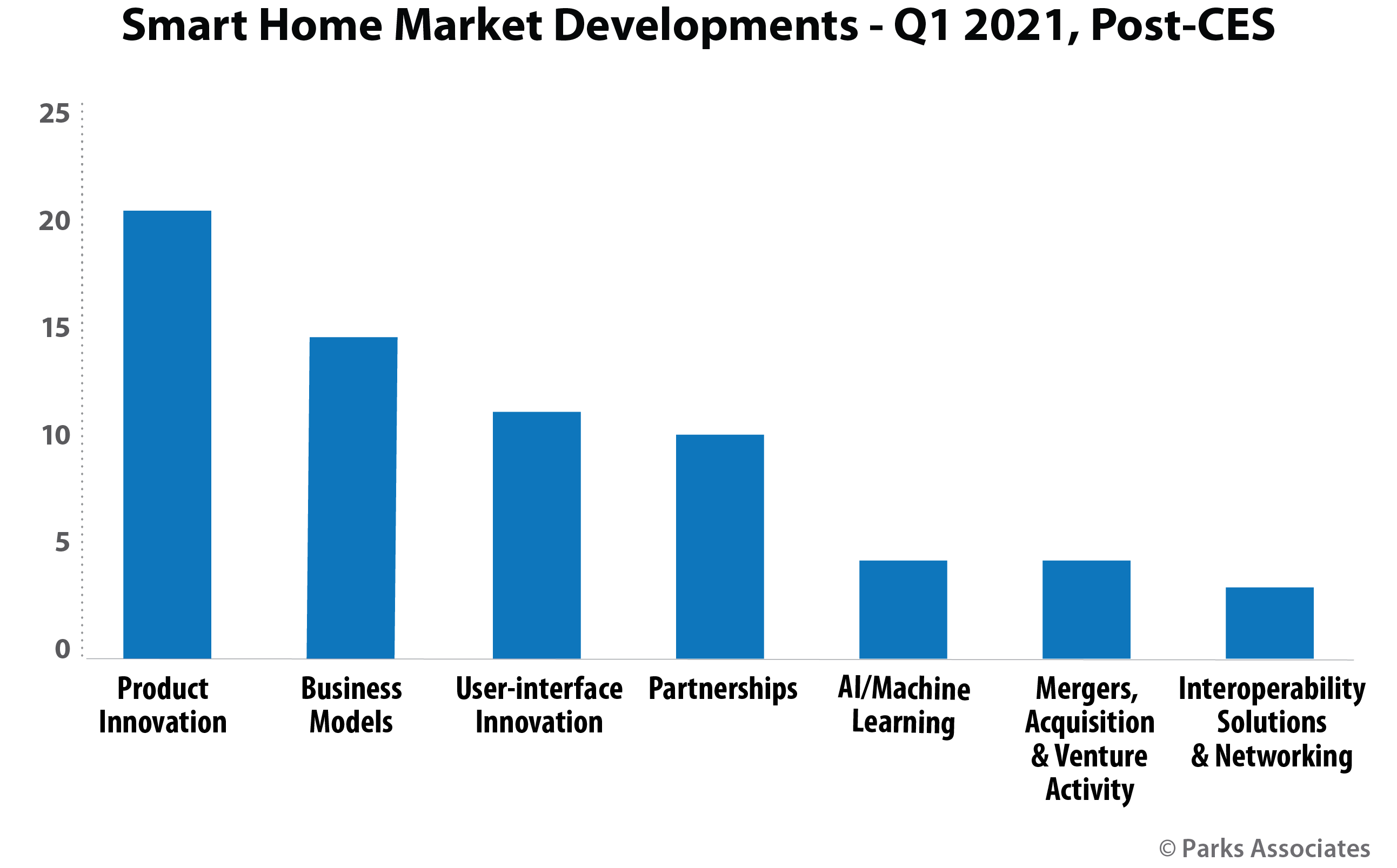 *Count of market developments assessed in Parks Associates' Q1 2021 Smart Home Tracker
Following the plethora of smart home announcements showcased at CES earlier this year, the smart home space continues to see a lot of activity in the first half of 2021, particularly in product and user-interface innovation. Amazon, in particular, announced new products, added new features to existing devices, and continued its efforts to expand product capabilities and provide additional value and features for its Ring and Echo users.
Ring introduced a trio of outdoor smart home security devices. The new outdoor siren and wall lights are consistent with Ring's home security strategy, which is centered on crime deterrence. Ring also debuted a new $60 video doorbell, the company's cheapest video doorbell yet. With lower-priced products becoming increasingly available in the competitive smart home market, Ring is also taking measures to improve the value of its existing products. The company introduced a Smart Responses feature powered by Alexa for its video doorbells and announced the long-awaited Geofence feature for all Ring camera devices. By adding these additional features to its already successful products, Ring is continuing to assert its dominance and competitiveness of its devices in the market.
Amazon's Alexa is not taking a backseat in the smart home space either. Leading voice assistant solution providers, Amazon and Google, consistently take initiatives to make their solutions more relevant to the needs of consumers. Amazon released a number of new Alexa features this quarter, many geared at making Alexa more useful through proactive actions, rather than waiting for requests. The new Hunches and "Tell me When" features incorporate proactive communication from Alexa, and the tech giant also plans to use AI to ensure a more natural interaction with Alexa. Amazon also plans to release a new mountable touchscreen echo device that serves as a control panel, which reflects Amazon's desire for the Echo to become central to smart home control. Amazon also announced that it is in the "late-prototype stage" of its secret home robot, Vesta, which has been in development for over four years. While the details of Vesta are not fully disclosed, the robot is described as an "Amazon Echo on wheels" - equipped with several cameras, a microphone, a screen, and several sensors to increase its functionality and use.
Amazon is already a leading player in the smart home space and this tech giant doesn't seem to be slowing down at all. The company also launched Build-It, a program that crowdfunds new smart Alexa devices and promotes consumer participation in its product development processes. The company is looking at development processes that will minimize the need to pull products from the market or discontinue support for products due to poor experiences and poor sales, while simultaneously improving devices on user-feedback.
For ongoing analysis of developments in the smart home space, please check out the Parks Associates' Smart Home Tracker.
For more information about Parks Associates research, visit http://www.parksassociate.com or call 972-490-1113.

Next: AT&T Cuts Losses With WarnerMedia Sale To Discovery
Previous: Cult Film Streaming Service Targets Niche Audience

Comments
Be the first to leave a comment.
Post a Comment