Amazon Discontinues the Dash Button
by Patrice Samuels | Sep. 11, 2019
Amazon recently announced plans to disconnect Dash buttons from the internet. Initially launched in 2015, Dash buttons are small buttons associated with specific products. They allow Amazon Prime members holders to reorder more of the associated product by simply pressing the button when supplies are running low. Products commonly associated with Dash buttons include laundry detergent, paper towels, and coffee.
The Dash button became obsolete with the emergence of suitable alternatives. These alternatives include Dash Replenishment, a service that incorporates the Dash solution into smart appliances and facilitates automated reordering of supplies such as dishwashing and laundry detergent when the appliance indicates that supplies are running low. Alexa Shopping has also likely had an impact on the Dash button. This service allows consumers to reorder products by sending simple voice commands to the Alexa voice assistant.
Part of the smart home evolution has been the evolution of its user interface (UI). Button, voice, gesture, and robot control are all alternative UI strategies being evaluated by smart home device manufacturers and service providers. The introduction of voice controlled smart speakers offered consumers a convenient alternative to traditional touch-screen navigation of smart home products. The benefits of voice control include the following:
Intuitive – allows control by a broad range of consumers
Universal – eliminates the need to share a personal device for app-based control
Hands-free – beneficial for executing commands while multitasking
Fast – Voice is generally faster than app-based control; most consumers can speak faster than they can type or navigate a screen to execute a command.

Nearly 30% of smart speaker users report that they use voice control assistants to control smart home devices. Despite the aforementioned benefits, voice control is not always appropriate or effective in all situations. It has shortcomings that include the inability to maintain privacy for sensitive commands and inability to maintain context when a series of commands are given. The use of voice can also be disruptive in certain situations, such as a baby sleeping in the relevant room.
The demise of the Dash button may paint a bleak outlook for button control in the smart home, but it also highlights the potential for automated replenishment services. As smart home brands seek to create value-added services using their smart products, replenishment services have emerged as a key opportunity. Nearly 60% of smart lighting owners or purchase intenders find a service that detects when bulbs are out and automatically orders replacements appealing.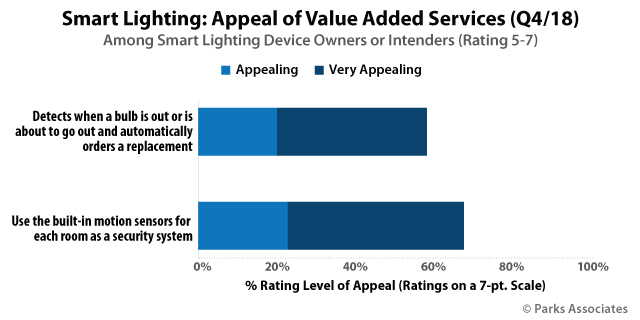 Parks Associates' Evaluating Service Opportunities in the Smart Home and Connected Home Services: Updating Modern Lifestyles reports will examine the opportunity to provide revenue generating smart home device services to the home.
Further Reading:
Next: Smart Home Opportunities for Home Builders
Previous: Insurance Modernization Fueled by Rise of Insurtechs

Comments
Be the first to leave a comment.
Post a Comment