Amazon Alexa Now the Leading Platform to Control Smart Home Devices
by Chris O'Dell | Apr. 8, 2019
Parks Associates research shows the average US broadband household owns 10.5 connected devices (including computing, mobile, smart home, and connected health devices), as well as smart speakers with voice assistants. Sixty percent of smart home device purchase intenders find it very important for their future smart home devices to work with the smart products they already own.
Smart home platforms help establish order out of the chaos that comes from the steady influx of connected devices in consumers' homes. Companies in this space can leverage platforms to provide a reliable, interoperable ecosystem with a simplified user experience and deliver expanded value through enhanced features such as cloud intelligence and data privacy/security. Across all device categories, Amazon Alexa, Google Assistant, and Samsung SmartThings lead as the platforms most used by consumers to control smart home products, followed by Honeywell and Works with Nest.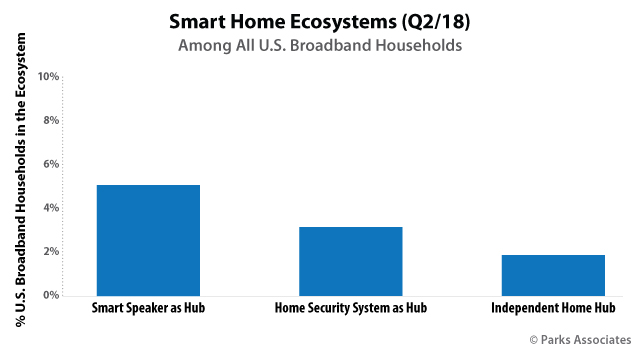 Not only are smart speakers with a voice assistant the most commonly used platform for smart home devices, many of those who own a security or home control system use a smart speaker as an additional control interface. The advent and continued growth of the smart speaker category has had a substantial impact on the smart home market by providing a cloud-based platform that enables device integration and interoperability. As smart speaker adoption intensifies, the device will become a fundamental method of smart home management. Sales of smart speakers with voice assistants—Amazon Echo and its competitors—are projected to grow from 35 million devices in 2017 to over 64 million in 2022.
The race to control the smart home ecosystem can ultimately accelerate adoption of smart home products. Companies that lead in ecosystem development will be able to insert their brand into every interaction in the smart home and become indispensable as a control interface for the consumer. By doing so, companies will improve data collection that drives revenue for advertising and ecommerce, while also enabling attached services like deliveries, video storage, monitoring, streaming content, and more.
For a more detailed assessment of the smart home ecosystem, including a profile of the leading platform players in the space and their approach to attracting manufacturers to their ecosystem, check out the Parks Associates industry report Race to Control the Ecosystem: Attracting Partners.
Parks Associates will also host the session "Interoperability: Technology Convergence and Expanding the Smart Home" at its 23rd-annual CONNECTIONS™ Conference on Wednesday, May 22 in San Francisco, California. For more information, visit www.connectionsus.com.
Further Reading:
Next: Impact of DIY on Professional Monitoring for Home Security
Previous: Nest: Confronts Smart Home Security

Comments
Be the first to leave a comment.
Post a Comment