Amazon Adds Key IP for Prime Video with $8.45 Billion Deal with MGM
by Liam Gaughan | May. 26, 2021
While Amazon Prime Video consistently ranks as a leading global OTT service, Amazon Studios hasn't yet developed a deep roster of original movies and TV shows like its rivals Disney+ and HBO Max. Prime Video users primarily access library titles from other content providers and make use of the service's aggregation functions. While acclaimed original programming such as the Oscar-nominated Manchester by the Sea and Emmy-winning Marvelous Mrs. Maisel were popular, Prime Video hasn't debuted a blockbuster franchise on the level of Stranger Things, The Mandalorian, or Game of Thrones.
Amazon looks to fill this gap in its content offering by signing a definitive merger agreement with film studio MGM for $8.45 billion. MGM's catalogue includes over 4,000 films and 17,000 television shows including the James Bond, Robocop, Silence of the Lambs, Legally Blonde, Tomb Raider and Rocky franchises. Amazon's senior vice president of Prime Video and Amazon Studios Mike Hopkins said these properties will be mined for upcoming original productions. Amazon Studio's upcoming The Lord of the Rings series reportedly cost the studio over $1 billion in production and licensing costs, but MGM's catalogue gives the studio a wealth of properties that can be developed into original content likely to generate significant viewership.
Amazon has been in the business of acquiring franchise films from other studios, including Coming 2 America, Without Remorse, and Borat Subsequent Moviefilm, so an investment in MGM's portfolio is a logical next step. Clearly, with this acquisition, Amazon is prioritizing popular IP as a key strategy for Prime Video moving forward.
Despite the uptick in overall OTT subscriptions over the past year, Prime Video's growth has flatlined. Data from Parks Associates indicates that subscriptions among broadband households have remained stagnant at 47% between Q3 2020 and Q1 2021.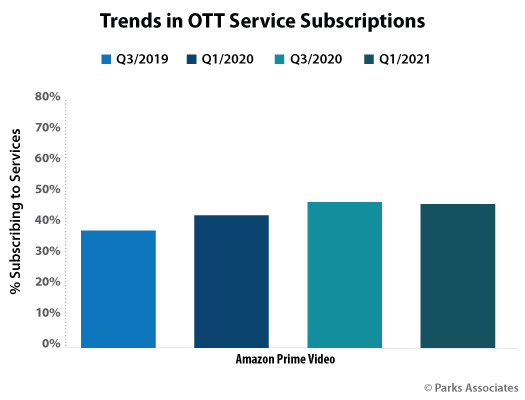 The release of a buzzy original movie or series would be a way for Prime Video to boost subscriptions. Amazon looks to emulate the growth patterns of Disney+ and HBO Max, who saw significant uptick in service uptake within the last year thanks to the debut of established franchise content from Lucasfilm and Marvel Studios and Warner Brothers, respectively.
Amazon will not immediately see the benefits of additional newer titles, but will certainly be looking to renegotiate existing licensing agreements in order to feature more MGM content within its library. Upcoming MGM projects including the Bond film No Time To Die is currently set to stream on Paramount Plus after its full theatrical releases and a limited time on Epix. Older MGM classics including The Wizard Oz and Singin' in the Rain currently stream on HBO Max. Amazon has not yet disclosed distribution plans for these titles, but may try to pull these titles from its rivals. Amazon may also integrate MGM content to boost the interactions for its growing ad-based service IMDb TV.
MGM properties soon to be adopted by Amazon also include the cable TV network Epix and a television production arm that produces programming licensed to other networks and services. While Disney has incorporated content from FX within Hulu, MGM produces many of the FX's top series including The Handmaid's Tale and Fargo. The transition of these shows to Prime Video is a possibility as services fight for acclaimed original content.
A service as powerful as Prime Video may be limited in its potential for significant subscriber increases, but will gain more long-term benefits from directing users toward its original programming and not relying as heavily on licensed programming. Similar purchases of other smaller media properties by Amazon and other leading OTT services is likely as the trend of corporate consolidation continues.
For a deeper look at the OTT video space, please check out the Parks Associates' OTT Video Market Tracker.
For more information about Parks Associates research, visit http://www.parksassociates.com or call 972-490-1113.
Next: Four Trends in Retention and Churn Among OTT Services
Previous: AT&T Cuts Losses With WarnerMedia Sale To Discovery

Comments
Be the first to leave a comment.
Post a Comment