Affordability is the Key to the Smart Home
by Chris O'Dell | Jan. 20, 2020
Affordability is now the key to the smart home.
New Parks Associates research shows that affordability has become the leading purchase consideration for smart home device purchase intenders. More than half (51%) of purchase intenders rank affordability as a top 3 purchase consideration, beating product reviews (31%) and data privacy/security efforts (29%). Affordability concerns have also become the leading purchase inhibitor among non-owners and non-intenders. Nearly half (44%) of the segment Parks Associates classifies as the smart home disengaged finds smart home devices to be too expensive.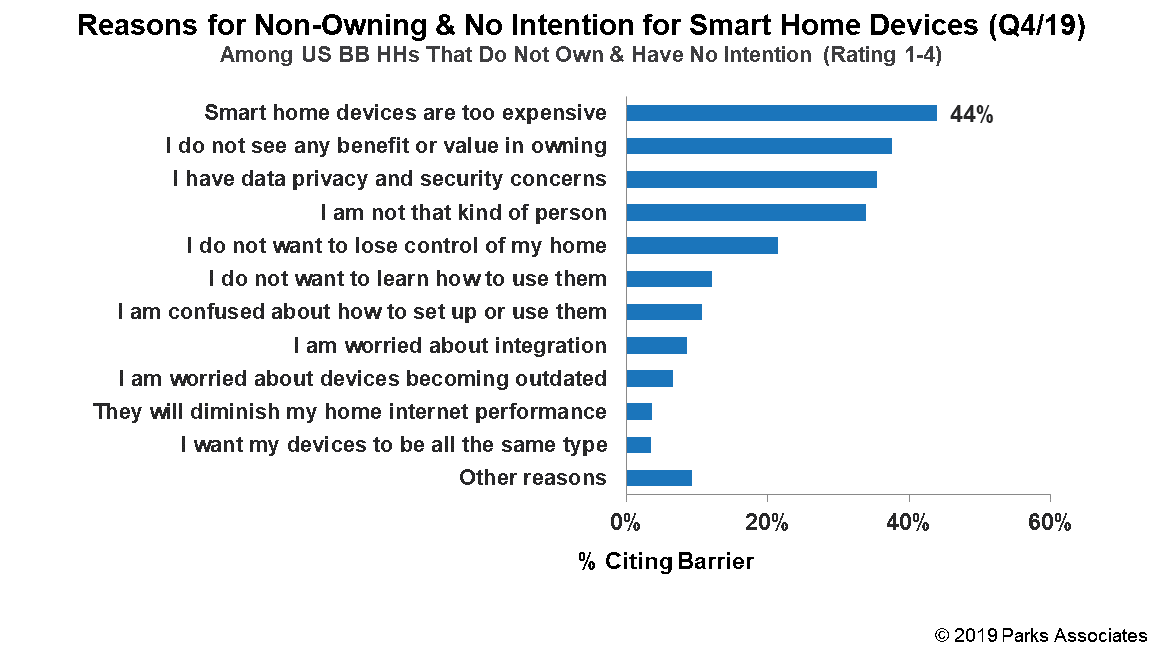 The growing importance of affordability is a positive trend for the smart home industry as a whole. This shift likely means the industry has reached the majority of early adopters and tech enthusiasts and is now targeting an increasing number of mainstream consumers. At CES 2020 in Las Vegas, this shift was evident by the announcement of multiple products at lower price points. Consumers are now finding products such as HD networked cameras with two-way audio available for as little as $20 (Wyze Cam), or battery-powered video doorbells with a chime included for as low as $80 (Toucan). Toucan's inexpensive video doorbell offering includes 180-degree field of view.
In addition, established market leaders like Nest have introduced second-generation products such as the Nest Thermostat E ($139 at Walmart) for a significantly lower price point than first-generation models like the Nest Learning Thermostat ($249). Tech giants Amazon and Google have even repeatedly discounted various smart speaker devices to as low as $20, giving consumers an inexpensive method for smart home control.
The recent push to decrease costs could be one factor that led to a jump in adoption of smart home devices in 2019. At the end of 2019, 29% of US broadband households owned at least one smart home device, up from 24% at the end of 2018. Overall, smart home adoption increased 21% during this one-year period after experiencing flat growth from 2017 to 2018.
Moving forward, market players will be well-served emphasizing affordability in any effort to reach mainstream consumers. As the industry moves beyond early adopters and tech enthusiasts, affordability is now key to the smart home.
Join Parks Associates at our upcoming events: Smart Energy Summit: Engaging Consumers, Feb 17-19 in Austin, TX and CONNECTIONS: The Premier Connected Home Conference, May 19-21 in San Francisco where we will address the next stages of growth in the connected home industries.
Further Reading:
Next: Tech Giants at CES
Previous: Smart Home Solutions - Insights from Sprosty Network

Comments
Be the first to leave a comment.
Post a Comment