ADT, DISH, and OnTech Announce Partnership
by Amanda Kung | Feb. 26, 2021
Security stalwart ADT and satellite TV service provider DISH Network announced a partnership to expand access to ADT's smart home security products through DISH's nationwide network of smart home professionals. OnTech Smart Services is a subsidiary of DISH launched in 2019 as a competitor to Geek Squad that will also serve as an installation provider for ADT security products and services. The partnership will allow DISH to market, sell, and install ADT smart home security products and services, expected to begin in Q2 2021. Pricing has not been announced, but it is likely DISH customers and OnTech+ members will have access to special promotions and pricing. Currently, OnTech+ memberships include unlimited tech support and members-only pricing for smart home products.
For ADT, the partnership with DISH and OnTech will help extend its reach in rural and exurban areas, further expanding its subscriber base. COVID-19 has increased time spent at home, and DISH Network is looking to add value to its customers through ADT's home security products. Parks research consistently finds that peace of mind about one's home and family ranks in the top three smart home benefits that most influence purchasing, highlighting consumer's interest in securing and protecting their home.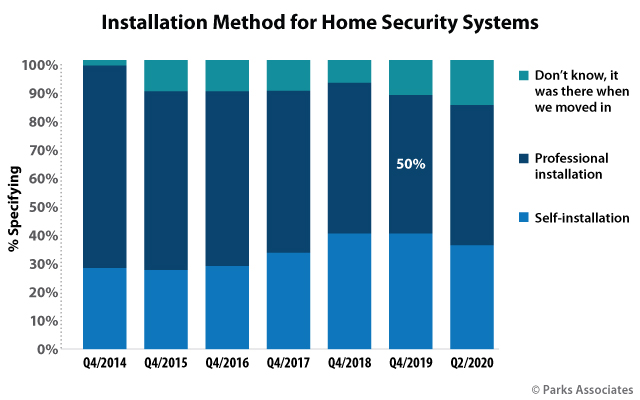 Parks Associates research shows that among all security owners who acquired a system within the past six years, the trend for self-installation emerges, but it is not as startling as when viewing installation methods for recent buyers. Given the margin of error, the ratio of self-installation versus professional installation is steady for 2019 and 2020, with 50% of security system owners professionally installing their home security systems in Q4 2019. As households seek to avoid the risk of infection, COVID-19 has hastened the transition to self-installation with Parks Associates research in Q2 2020 finding that 30% of consumers are hesitant to have an installer in their home. At the same time, 39% of security system Intenders report that they will choose professional installation when they do acquire a security system.
ADT's recent partnership with DISH follows Google's $450 million investment in ADT in August 2020. Earlier in February, Atlanta-based Ackerman Security Systems joined the ADT Authorized Dealer Program to sell and install ADT smart home security services to its customers. These moves suggest a continued focus on professional installation for ADT as COVID-19 restrictions begin to lift and consumers become comfortable with allowing strangers into their homes again.
Next: Cult Film Streaming Service Targets Niche Audience
Previous: Streaming Services Take the Lead at Sundance Film Festival

Comments
Be the first to leave a comment.
Post a Comment