A Wakeup Call for the Connected Health Market - Insights from Electronic Caregiver on Digital Health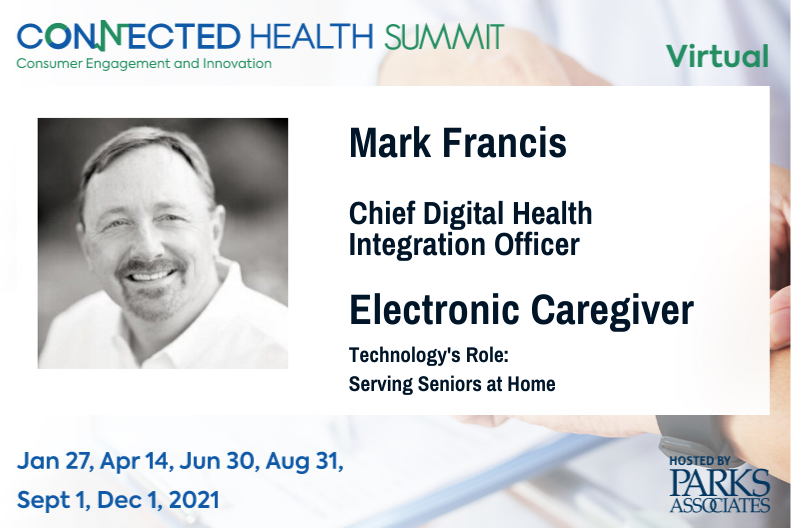 Parks Associates continues its 2021 virtual Connected Health Summit this week with a session on April 14, Leveraging the Smart Home for a Healthy Home, and Seniors and Caretakers: Serving A Massive Population at Home. COVID-19 has radically changed healthcare, transitioning primary care away from the care facility and into the home. Mark Francis, Chief Digital Health Integration Officer of Electronic Caregiver (ECG), will join the interactive panel of Seniors and Caretakers: Serving A Massive Population at Home, and will discuss Technology's Role: Serving Seniors at Home at 1:30 PM CT. Prior to the April 14 session, Mark gave insights on the significant impact COVID-19 has had on the connected health market:
How has COVID-19 impacted the connected health market?
COVID-19 was a wakeup call for the value of clinical applications in the connected health market. No longer regulated to fitness tracking and health care "light" applications, connected health solutions showed the ability to drive outcomes, effectively deliver care, save lives, and keep communities healthly. Changes in federal reimbursement policies also showed that there are business cases that make digital health – holistically – a viably financially for providers.
How have consumer attitudes towards connected health solutions shifted in the last year?
Consumers have always been favorably inclined toward connected health solutions, even seniors to an ever increasing degree. It was always the payors and providers who were laggards and holding back adoption. I was stuck by an article in the New York Times earlier this year in which a doctor was expressing his surprise to the degree to which his patients liked telehealth. The surprise is that you, Dr. Physician, were surprised! There is tremendous, lasting value for consumers, providers and payors for a hybrid model of care.
Will shifts in consumer behaviors related to fitness, wellness, chronic care management, and care for senior populations outlast the COVID-19 crisis? How can solution providers keep consumers engaged over the long-term?
Yes, the COVID-19 crisis accelerated shifts to consumer behavior that we already underway. The underlying mega-trends are still marching forward – global population aging, caregiver shortages, ongoing technological innovation, rise of the patient as consumer, and pushing care outside of the institution. Those solution providers who will win are those who understand that this is all about engagement, This is not the same as the home alarm or PERS businesses. Connected health solutions need to provide daily value and continual engagement to consumers. That is how to drive health outcomes and optimize resource allocation.
COVID-19 exposed the vulnerability of our senior population – how can independent living solutions best meet the needs of seniors and caregivers?
Seniors and caregivers desire solutions that are engaging, deliver value and come from trusted sources. They do not have the time or patients to stitch together a hodge-podge of offerings to create a platypus solution. They would prefer one company with whom to engage that will pull together the best-of-the-best offerings, seamlessly integrated, with a consistent engaging user interface. Companies that deliver such a solution will be successful.
The healthcare economy has been severely disrupted in this crisis, but regulations and reimbursement for connected health solutions are trending positive – how will these competing forces impact the growth of the connected health market?
I have always said that the government (CSM and state Medicaid agencies) are the "market makers" when it comes to connected health. COVID-19 proved this to be the case. Moving forward, the new regulations and reimbursement can drive continued market growth or adoption; pullbacks will cause the market growth to stall. If the government and payors want to see the adoption of value-based care solutions, then the move towards connected health solutions will accelerate.
Join us this year for our Connected Health Summit! Register now.
Next: Challenges of the Aging Population - Insights from People Power
Previous: Connected Health Summit continues with "Leveraging the Smart Home for a Healthy Home" and "Serving a Massive Population at Home" Focus

Comments
Be the first to leave a comment.
Post a Comment