Samsung's New Gear VR Hardware Could Solidify its Dominance Over the Mobile VR Market
by Hunter Sappington | Mar. 30, 2017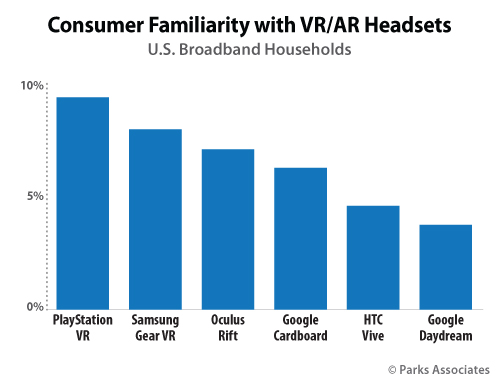 Samsung's new Gear VR headset and motion controller that it announced at Samsung's Unpacked event are exactly what Samsung needs to remain at the top of the mobile VR space.
Samsung already boasts a majority of advantages when Gear VR is compared to competitors such as Google Daydream and other mobile VR viewers. Gear VR was the first major VR headset available on the market, and it also benefitted from Samsung's marketing, demos, and promotion throughout its lifecycle, which led to a familiarity rate twice as high as Google's. Furthermore, Gear VR boasted advantages in available content and smartphone compatibility.
However, when Google's Daydream headset was released in late 2016, it offered a superior user experience with its motion control remote. Users can control the headset with motion controls rather than fumbling with the buttons on the side of the headset. The better usability of the device, combined with a lower price, set up Daydream VR to be a worthy competitor to Gear VR.
Now that Samsung has unveiled a comparable motion controller for its new Gear VR headset (it's also compatible with older iterations), one of Daydream VR's primary advantages over Samsung is now moot. In addition to the new controller, improvements to battery usage, launch speed, and UI in the Oculus Home environment all provide compelling reasons for consumers to consider Gear VR over Daydream VR. Google still has a price advantage, as Samsung's Gear VR is $50 more expensive than the Daydream, but the search company needs to offer more benefits beyond price, such as compelling content exclusive to the Daydream headset, in order to lure consumers to its platform.
With a new motion controller and quality-of-life improvements to its headset, Samsung's newest wave VR offerings and improvements should ensure that it continues to dominate the consumer mobile VR space for the time being.
For more info on the VR market, keep an eye out for the upcoming Parks Associates industry report, Virtual Reality - Disrupting the Entertainment Experience.
Further Reading:
Next: Facebook's Developer Conference Addresses Trends in Connected CE
Previous: Consumer Interest in Drones is Taking Flight

Comments
Be the first to leave a comment.
Post a Comment