As AT&T Moves Deeper into Content Space, Verizon Focused on Network
by Billy Nayden | Aug. 22, 2018
The growth in both traditional OTTs and virtual MVPDs has been the story of 2018 so far in the digital media marketplace. It seems every day a new service is launching, a new company is entering the space, and a new option for content emerges for consumers. Luckily for content companies, consumers appear receptive to this trend and have responded with subscriptions.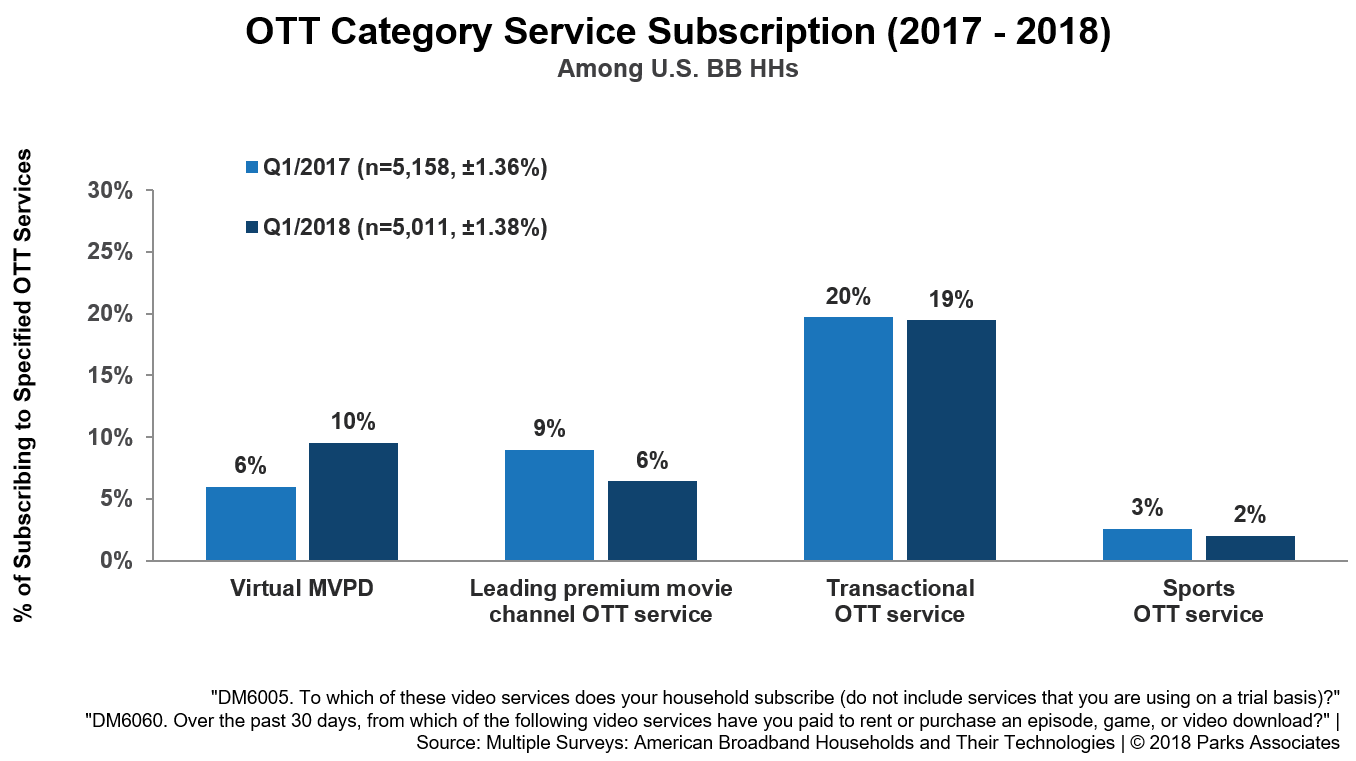 According to data from early 2018, Virtual MVPDs have seen the largest growth of any type of OTT service in the market, as they emerged as a legitimate alternative to the traditional cable package. Services like AT&T's DIRECTV NOW and DISH Network's Sling TV have given the opportunity for consumers to subscribe to a package of bundled channels, but only pay for the content they actually want. Thus, they see drastically reduced prices over the traditional cable bundle, improving the value proposition.
In its upcoming report, The Future of Live Entertainment, Parks Associates evaluates the success of OTT services and virtual MVPDs, and how that has shifted the landscape of live viewing. The market for pay TV has changed massively over the past few years, with technology companies and streaming services at the forefront, marking an important development for any company in the content industry.
The success of these services has created a buzz that many of the traditional cable operators would shift into the content space, and perhaps launch Virtual MVPDs of their own. AT&T has already jumped on this trend with their proposed acquisition of Time Warner, and with dominoes yet to fall with regards to Disney, Fox, and others, there is reason to believe the content industry isn't done launching new OTT and Virtual MVPD services.
However, one company that many speculated would be a major player in this space has signaled its intentions to stay out of the content business for the time being. Verizon announced on August 14 that it will offer free Apple TVs and YouTube TV subscriptions to customers who purchase its new 5G broadband internet service, slated for launch in four cities by the end of this year.
This is a massive departure from the strategy of AT&T, which recently made massive purchases in securing content, furthering the trend of vertical integration in the television industry. In contrast, Verizon is choosing to partner with YouTube TV, a property owned by Google, to launch its new internet service at the end of this year instead of launching its own service. This is a signal that, at least in the short term, Verizon is planning on building its business on the strength of its network, rather than expanding the business to the content industry.
Interestingly, Verizon is a company that has been involved in the video content space since 2015, when it launched the now defunct go90, a mobile-focused, ad-supported video service. Go90 lauded content ranging from NBA and NFL games to AwesomenessTV, a short form content creator targeted at preteens. However, with the collapse of that platform, Verizon has shifted its focus away from becoming a content creator and back to its core competency of offering unparalleled network speed and access.
Speaking to CNBC, Verizon CEO Hans Vestberg cemented that commitment saying, "Our network is our asset, and I think we have another way to deal with our assets, our distribution." Clearly, this has become a focus for the company, as Verizon feels the future of internet is 5G and becoming the early distributor of that technology will be more beneficial to the company long term competing in the content space. Being first in the 5G space could be a massive boon for Verizon, but it's certainly a departure from both its past strategy of vertical integration and the trends set forth by its biggest competitors.
Perhaps it's a strategy spurned on by go90's failures or simply a desire to avoid the arms race currently occurring in the original content space, but whatever its motivation, Verizon has sent a clear message to the marketplace that its is not focused on becoming a vertically integrated, video content monolith in the mold of AT&T. Instead, it will return to its roots in networks and become the first telecommunications company to not only embrace 5G as the wave of the future, but present it to the market as the flagship of its new strategy.
Next: Subscription OTT Video Services – Who's On-the-Top?
Previous: The Decline of Pay-TV Services – New Whitepaper

Comments
Be the first to leave a comment.
Post a Comment